Dean Martell headed to state track Hall of Fame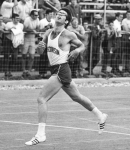 January 02, 2016
Wisconsin graduate, two-time state Mile champion, still owns Somerset High School Mile record after 50 years
By Dave Newman, New Richmond News
Dean Martell stole the show at the 1967 WIAA State Track Championships.
He went on to a stellar running career at the University of Wisconsin-Madison.
Now his exploits are being recognized. Martell has been named as a member of the Class of 2016 in the Wisconsin Track Coaches Association Hall of Fame.
The induction will be held on Feb. 6, 2016.
Martell earned headlines all around the state with his performance at the 1967 state track meet by running the Mile in 4 minutes, 19.6 seconds. He was competing in Class C for the smallest schools, but his time broke the Wisconsin state meet record for all three divisions.
This was the second straight state championship in the Mile for Martell. He had won the 1966 Class C state championship in 4:32.5.
Continue reading at: www.newrichmond-news.com