Elise Cranny Joins the High School Elite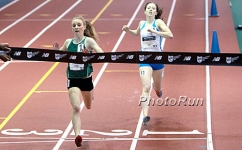 April 30, 2013
The Niwot High junior has Mary Cain in her sights.
By Marc Bloom, Running Times (Image by Victor Sailer/PhotoRun)
Recipe for outstanding high school distance running: parents who are Ironman triathletes, years of youth swimming for a huge reservoir of cardiovascular fitness, coaching that includes the expertise of a world-class marathoner, and living in the Mile-high training mecca of Boulder, Colo.
That's the formula that led to last month's 4:40.62 New Balance Indoor Nationals Mile victory at the New York Armory by Elise Cranny, a 16-year-old junior at Niwot High School. Cranny was the surprise of the meet. It was her second indoor race ever after a 4:58.15 PR three weeks earlier at the Air Force Academy. She'd never been to New York before. And she was competing against proven Milers like the defending champion Hannah Meier of Michigan, who'd held the meet record of 4:42.60 and two weeks before had won the Brooks PR 800 against a national field in Seattle in 2:07.45.
Continue reading at: runningtimes.com