Focus on the U.S. Men's 1500 Scene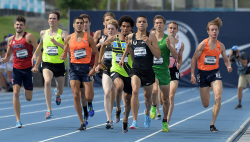 April 02, 2021
Whoever shows up on the starting line at Hayward Field, rest assured the guys will put on a great show at the U.S. Olympic Trials
By Jeff Hollobaugh, Track & Field News
It's not outlandish to project that one of the most-anticipated events at June's U.S. Olympic Trials will be the men's 1500. There is a certain addiction fans have to the magic of the Mile, even in its metric morph.
The organizers and the broadcasters know this. Why else would the event be scheduled in the penultimate slot on the final day? That's prime time, baby.
Perhaps it's all because the "Mile" is the basic building block for every fan who ever ran cross country or distances in track. Everyone's got a PR. Everyone's got an opinion. And everyone seems to have a favorite to root for, whether it be their hometown hero or that runner with the great kick they've only ever seen in live-streamed track meets.
The Usual Suspects
In any gathering of U.S. 1500 men, Matthew Centrowitz will always head the list — a gold medal has that effect. Since Rio, the now-31-year-old has been on a bit of a roller coaster ride, with just one national title and a best of 3:31.77. In his only international championships since then, he got stuck in the heats in London 2017 and finished 8th in the Doha 2019 final. Yet there continue to be signs that the crafty tactician is still extremely dangerous.
Ole Miss alum Craig Engels is a bold racer. Now 26, he brings good speed to the game with a 1:44.68 PR for 800. Last time around he doubled, with near-misses in both. This time he will bring the experience of being a World Champs finalist.
The oldest of our top prospects is Ben Blankenship, now 32, who finished 8th in Rio. Despite the promise he has shown in longer races, he has unfinished business in the 1500 and he has the experience to know exactly where he needs to be when the kicking starts.
Late-blooming former steepler Josh Thompson is nearing 28 and has gotten faster in the 1500 for each of the last 4 years. An indoor best of 3:34.77 in 2020 followed his first national title. He's shown a devastating kick on the final straight, an attribute that could be very advantageous at the Trials.
Drew Hunter, 23, is a wild card. He U.S.-ranked as high as #2 in 2018 and has a 3:35.90 PR from that year. He tells us that he's open to either the 1500 or the 5000. "The plan is to be prepared for everything."
Oregon alum Sam Prakel, now 26, has developed into a consistent racer under the tutelage of Andy Powell. He has U.S.-ranked two years in a row, hitting #5 in '19. That puts him on the radar.
Journeyman Miler Eric Avila, 31, made his first U.S. ranking (a #6) in 2019. That came the year after the alum of the NAIA's Southern Oregon won the Millrose Mile. A 13:18.68 last year showed a big jump in strength and possibly Trials options in the 5000.
In 2019, two years after making the World Champs final, Oregon alum Johnny Gregorek sandwiched a disappointing 10th at nationals with solid speed, most notably a stellar 3:49.98 indoor Mile and a 3:35.32 in the 1500. The 29-year-old opened up this season with a 7:49.40 PR at 3000 and said, "It's time to rip some 1500s!"
Continue reading at: trackandfieldnews.com