Freeman runner Waleed Suliman eyes track's most monumental mark: sub-4 minute Mile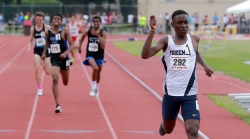 May 12, 2017
"Being the 10th high schooler to ever break (4 minutes) is definitely a huge thing. I really hope that I'll be able to be that 10th runner."
By Wayne Epps Jr., Richmond Times-Dispatch
With his standout career at Douglas Freeman approaching the homestretch, senior runner Waleed Suliman is eyeing an esteemed and exclusive milestone: a sub-4 minute Mile.
Suliman posted a 4:04.11 in the 1600 meter race in a meet at Douglas Freeman on April 29, a record for the Richmond area. The 1600m event is a tad less than a true Mile — about 9 meters short. But Suliman will get the opportunity to run a true Mile and test that 4-minute barrier Friday in the Southern Track Classic at Sports Backers Stadium.
Only nine different high school athletes in the United States have run faster than 4 minutes in the Mile. If Suliman were to break the 4-minute mark, he would be the fifth high school runner to do it in the past two years and the third Virginian overall.
"I have a feeling that I'll be able to get in there if it was just like the right time, the right race," said Suliman, a native of Jordan who came to the United States with his family in 2014. "Being smart in the way that I'm running. I think that I'll be able to do it."
Continue reading at: www.richmond.com