Galen Rupp to run the Mile on Saturday at the Flotrack Throwdown at Duniway Park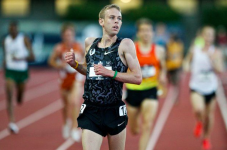 August 06, 2015
The Flotrack Throwdown is scheduled to begin Saturday at 4:30pm. Other events include the women's 800, men's 800, women's 1500, men's 400 and women's 100 hurdles.
By Ken Goe, The Oregonian
Olympic silver medalist Galen Rupp has been confirmed as an entry in the Mile for the Flotrack Throwdown track meet Saturday in Duniway Park.
Rupp, who graduated from Portland's Central Catholic High School and has a sub-3:51 Mile personal record, holds the U.S. outdoor record in the 10,000 meters. But since leaving high school he has had few opportunities to compete in his home town.
In the Throwdown he is expected to tangle with an elite field that includes two-time NCAA champion Mac Fleet, as well as Eugene-based pros Pat Casey, Jordan McNamara and Hassan Mead.
Continue reading at: oregonlive.com