Getting Big Air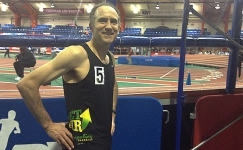 March 04, 2013
By Brett Hoover, Armory Track
Brad Barton's son, a Division I collegiate runner, made the mistake of calling his dad an "old man."
Barton, once an All-American in the steeplechase at Weber State University in Utah, told him, "When you beat me in the Mile, you can call me an old man."
Well, dad has made it a lot tougher for his son. Running in the Mile at the Columbia Final Qualifier on Saturday night at The Armory, Barton ran an age-group world record 4:16.84. Afterward he said, "I didn't think I could run that fast."
And with good reason. No one his age (46) had ever broken 4:20 before as the previous mark was 4:20.18 set by John Hinton in 2008. After hitting his 800- and 1200-meter goals on the nose, he sprinted out a 62-second final 400 to beat a number of competitors half his age.
Continue reading at: armorytrack.com