Grand Blanc's Fisher is prep person of year — by a Mile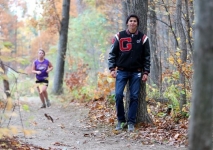 June 30, 2015
Fisher was an easy choice for the annual award given to someone connected to the world of high school athletics. Not just because of athletics, he is also a tremendous student.
By Mick McCabe, Detroit Free Press
We have seen unforgettable high school performances before ...
Keith Appling scoring 49 points for Detroit Pershing in the Class A state title game ... future Olympian Allison Schmitt of Canton winning the 200 free (1:46.25) and 500 free (4:47.46) in record times on the same day ... Grand Rapids Christian's Drake Harris having 243 receiving yards in a state title game ... future three-time Olympian Dathan Ritzenhein of Rockford registering a remarkable 14:10.4 in the cross-country finals ... future Hall of Fame pitcher John Smoltz hitting a walk-off home run for Lansing Waverly in Lansing's prestigious Diamond Classic.
But this Grant Fisher kid ... we have never seen anything like this before.
Ever!
Five days after smashing the state 1600 record in 4:00.28 (and running 4:01.66 for the Mile) and winning the 3200 title, the Grand Blanc senior became only the seventh high school student in the country to break the four-minute barrier in the Mile when he turned in an amazing 3:59.38 at a meet in St. Louis.
Continue reading at: www.freep.com