Grappling—and running—for Olympic gold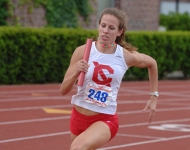 March 26, 2012
By Evan Drexler, Ezra Magazine
...Morgan Uceny '07, will be making an effort to qualify for the Olympics, as well. Uceny was a distance runner during her time on the Hill. She recently was named the world's best 1,500-meter runner by Track & Field News and also claimed the 1,500 title in 2011 at the Diamond League. Those honors – while putting additional pressure on her as top dog – might make Uceny seem like a shoo-in to make the Olympic Games.
When qualifying comes around in late June, though, Uceny expects the competition to be much tougher than she faced in 2011.

"I think I definitely have a target on my back because I was running very consistently last year and did kind of have a breakthrough season," Uceny says. "But with an Olympic year, people come out of the woodwork where everyone is trying to bring their 'A' game. I understand that it's going to be harder this year, so I'm not giving myself any breaks."
Read complete article at ezramagazine.cornell.edu