Guided by the Spirit: David Torrence Legacy Foundation launched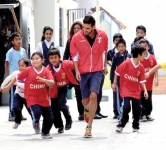 October 18, 2020
In honor of her late son David, an Olympic runner, Malibuite Bianca Torrence is working to realize his dream of bringing the sport to a new generation.
By McKenzie Jackson, Special to The Malibu Times
When Bianca Torrence goes for a run, there is often an unseen force propelling her forward.
It's her son David Torrence.
Bianca, a Malibu Realtor, feels David, who died a little over three years ago, urging her to continue to put one foot in front of the other.
"I feel his spirit, and I feel him talking to me," Bianca said. "He is guiding me through the process. I'm very much in contact with his energy."
The memory of David, a professional middle-distance runner who competed for Team Peru in the 2016 Summer Olympic Games, and his hopes, pushed Bianca to start the David Torrence Legacy Foundation (DTLF), a nonprofit organization with a mission of helping young runners shine in their sport.
Bianca launched the DTLF website on Aug. 28, the anniversary of her son's passing in 2017. The webpage features a picture of David, a list of his many accomplishments and the foundation's goal of helping novice runners in the U.S. and Peru, Bianca's native country.
DTLF will establish scholarships for cross country or track athletes at Malibu High School as well as Loyola High School, David's alma mater, in Los Angeles. In Peru, the foundation will align with Peru Runners, an organization focused on identifying and nurturing talented but inexperienced racers.
"In David's memory, we created a foundation to provide resources, education and scholarships to young runners so they can be the best they can be," Bianca said. "Here or worldwide. We can spread out. Right now, we are in the beginning stages, but if there is a lot of support, we can help more young athletes. It gives me satisfaction that I am continuing what David wanted to do."
David was a successful athlete at the University of California, Berkley, before beginning his standout professional running career in 2009. He competed in the 800 meters, 1500m, Mile, 3000m and 5000m throughout his career and the three-time USA Road Mile champion (2009-11) set a handful of records as an American athlete.
David changed his nationality to Peruvian months before the 2016 Rio Olympics in order to represent the South American nation in 2016's sporting showcase. The runner set a national record for the nation in the 5000m at the Summer Games. David set a few other Peruvian records before his passing a little over a year later.
Continue reading at: malibutimes.com