Gusman, LaCaze Win Mitchell Street Mile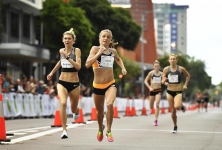 September 19, 2016
More than 3,500 fans were on hand in overcast conditions to watch the third edition of one of the world's richest Mile road races down under in Darwin
By Grey Morris, NT News
Canberra runner Jordan Gusman unseated Olympian Ryan Gregson as the Mitchell Mile champion when he won the event in scintillating fashion, while Rio Olympian Genevieve LaCaze's winning smile said it all after her lead-from-the-front race plan produced a maiden win.
Gusman, the 22-year-old Australian, was beaten by Gregson in the 1500m national championships but turned the tables on the Olympian in yesterday's race to grab the $7500 champion's check (AUS dollars).
His 4 minutes, 5.35 seconds time for the Mile was more than half a second quicker than Gregson and more than three seconds better than third-placed Jordy Williamsz.
"I was pretty confident going in," Gusman told NT News post race. "I had to be confident in my own ability; with a lot of good athletes in the race I knew were going to push hard."
Continue reading men's story at: www.ntnews.com
Continue reading women's story at: www.ntnews.com