Heather Kampf Interview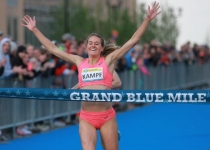 October 25, 2021
The Liberty Mile is one of my favorites. I love the organizers of that race. I always felt like I was an honorary 'Pittsburger' every time I went there because they would have the elite runners come in early to do events with kids before we got to race.
By Gary Cohen
Heather Kampf earned the title, 'Queen of the Road Mile,' as she won 28 road Mile races from 2001 to 2019, including four USA Championships, five Ryan Shay Miles, five Bermuda Miles and four Liberty Miles. She is also a four-time Bring Back the Mile Grand Prix Tour champion (2014-16, 2019). Her fastest road Mile was a 4:19.7 third place finish at the 2016 Fifth Avenue Mile. In 2014, Heather raced 1500 meters at the World Indoor Championships and was part of the silver medal, American Record, 4 x 1,500-meter relay squad at the IAAF World Relays. She earned bronze medals at the U.S. Indoor Championships in the 800 meters (2010-11), 1500 meters (2014) and Mile (2017) and a silver medal in the 2-Mile (2017). Heather placed seventh in the 800 meters at the 2012 U.S. Olympic Trials. She competed for the University of Minnesota, qualified for all twelve NCAA Championships in cross country, indoor track and outdoor track, and was a nine-time All-American. She made the finals all eight times, indoors and outdoors, in the 800 meters, highlighted by a indoor title in 2006. She won NCAA silver medals at 800 meters indoors (2008) and outdoors (2006) and NCAA bronze medals indoors (2007, 2009) and outdoors (2007). Heather was a member of the Gophers first ever Big Ten Championship teams in cross country, indoor track and outdoor track. She broke Minnesota school records in ten events, five individual and five as part of relay teams. Kampf is famously remembered for tripping in her heat of the 2008 Big Ten 600 meters indoors, falling to last place, and getting up to resume racing and win her heat. At Rosemount High School, Heather was the Minnesota Class AA State Champion at 400 meters (2004) and 800 meters (2005), while also earning All-State honors twice in cross country. Her personal best times include Outdoors: 800 meters – 2:00.04; 1500m – 4:04.46 and Mile – 4:27.23; Indoors: 600m – 1:28.62; 800m – 2:02.33; 1000m – 2:40.90; 1500m – 4:11.27; Mile – 4:27.26 and 3000m – 8:51.27; road Mile – 4:19.7. She was inducted into the Minnesota Hall of Fame (2018) and resides in Minneapolis, Minnesota with her husband, Ben and their two dogs, Ellie & Dewey. Heather was kind to spend over an hour and a half on the telephone for this interview in the late summer of 2021.
GCR: BIG PICTURE As a middle-distance runner, you have been immersed in the sport of running for around twenty years since your teenage years. How have lessons you have learned from running such as discipline, steady progress toward goals, teamwork and rebounding from adversity contributed to and shaped your life?
HK: Honestly, the first thought that came to my mind is 'entirely.' We can apply so much of what we learn from this sport and, I can imagine, from any sport to life. I've always thought of running as a safe incubation place to take risks and to take on challenges to see what I can do. Then I can apply that to how I approach life outside of the sport. Running has impacted me a lot, not only in terms of those values I have learned like discipline, but from the running community I have grown up with. Runners are some of the best people you can find out there in terms of being kind, understanding individuals who know how hard everyone is working regardless of how much success they reach in the sport. I married a runner and most of my best friends are people that were on my teams that I competed on throughout the years, so I've been enveloped in the sport.
GCR: At the highest levels of sports like swimming, track & field and gymnastics, athletes set goals to compete in the Olympics or World Championships and to represent their country. Can you describe what it meant then and what it means now to represent the USA at the 2014 World Indoor Championships, 2014 World Relay Championships and to pull on the USA jersey on other occasions?
HK: For most of us, wearing a USA jersey is the pinnacle of the sport, regardless of what level of competition. I've done a few international cross country races where I got to wear the team USA jersey and it is such an honor, especially when I realize how much depth there is in my events and in USA distance running in general. We know that, if we are wearing that jersey, it took a lot to get there and it is very special. That can never be taken away from you. I have pride in where I come from, but the jersey is a representation of the level of the sport that we achieve. Something I try to remember is that in some races we don't have the best results like at the 2014 World Indoor Championships where I fell down during the race. When I stood up after falling on the track and resumed running, my bib that said 'USA' was flapping in the wind because it was almost torn off. That was a moment when I realized I was very excited to represent my country and I wasn't there just for me or my country, but it was all about representing my maker. I carry my faith along with me when I race and that was an opportunity to display resilience and something God has given me outside of my results or my performances. I try to keep in mind that whatever name or country is on my jersey doesn't take away where I am really from.
GCR: At all levels we hear talk of winning championships like the Super Bowl or NBA title or World Series, but for younger runners, winning State Championships in high school and NCAA Championships in college are what athletes strive to achieve. How exciting was it for you to win the 2004 Minnesota Class AA 400 meters, 2005 Minnesota Class AA 800 meters and then to cap off a three-year championship run by winning the 2006 NCAA Indoor 800 meters as a freshman?
HK: In high school, when you are that caliber of an athlete, it doesn't become an expectation, but what you are hopeful of achieving. It feels great to be standing on the top of that podium and feeling like you gave your best to land there. In college, I truly was so blind to the level up that I made. I ran 2:10 to win the State meet in high school and then my second 800 meter indoor meet as a college freshman I ran 2:04. It was a huge difference in time. I thought I was running to the level of the competition around me, and I expected to win since that is what I was used to in smaller meets. I don't think I totally appreciated how special and how rare it is for a freshman to come in and win an NCAA championship.
GCR: Twice, so far, you have mentioned strength of competition and it was strong during your four years of competing collegiately where you made the NCAA podium six out of eight times indoors and outdoors. How tough was your competition when we look at women such as Alysia Johnson with five podiums including two wins, Rebekah Noble and Latavia Thomas with three podiums each with one on the top step, and Geena Gall winning twice so that you five women earned nineteen of the twenty-four medals over those four years? How tough was this 'fab five' that raced each other over and over?
HK: It was tough, but it was exciting. When you show up at that top level of competition, you want it to be a situation where you know you might have to run a time you haven't run all season to capture that win. I thrived on knowing there were people in the field that would help me better my best. My freshman year, Rebekah Noble and I flipped-flopped. I won indoors and she was second. Then she won outdoors, and I was second. I thought that she would be my nemesis through my entire NCAA career and then we got four more strong competitors. It was amazing how much talent was there. One name that is not on that list is Molly Beckwith, who didn't have her shining years in college, but we went against each other post-collegiately. It was cool how much talent came out of the Big Ten Conference from those years.
GCR: Part of the excitement of collegiate running is competing in relay races with our teammates. How much fun were the relay races in the Big Ten, at NCAA Indoors and when you were a part of Drake Relays winning foursomes each of your four years at Minnesota at four by 1600 meters, the distance medley relay and four by 800 meters?
HK: Those races were so much fun. I loved running relays. When you are carrying a baton in your hand with teammates that you love, it feels like you are carrying the heartbeat of your team. That is why you are racing, and you can't fail. When I was racing the four by 800 meters or four by 1600 meters that I was usually anchoring those events. One race I remember, there was an official standing on the sideline waiting to send me out to be the next person on the starting line. He said, 'They are making this easy on you.' My teammates were doing such an excellent job of gapping the field that I would have to screw up to take this win away from our team. They had made it so easy for me. I was so blessed to be part of such a strong middle-distance group on my team to be able to pull off those wins together. In some ways, it didn't feel like there was much pressure on me because my teammates would give me the baton in such good position on the track.
Continue reading at: garycohenrunning.com