Helly Visser, 80, eyes smashing indoor Mile world record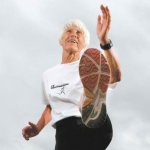 March 14, 2014
"My goal is to run it in around 8 minutes and 20 seconds."
By Curtis Stock, Edmonton Journal
EDMONTON — Growling and nipping at our heels, time chases us all.
But not Helly Visser. Eighty-years-old, time can't keep up with the Calgary middle distance runner and neither can her opponents.
"I don't know what is happening with me. Since I turned 80, I keep breaking records," said Visser, who already holds three Masters world records and will be looking to add a fourth — in the Mile — in Saturday's finals of the Running Room Indoor Games at the University of Alberta Universiade Pavillion.
"I can't really explain it, but I have become faster and faster. Especially over the last couple of months."
Visser has plenty of proof.
Take the 1500 meters. On Jan. 18 — at the Golden Bear track meet — Visser stopped the timer in a Masters world record 7:48.23. Less than three weeks later, also at the U of A, Visser lowered it to 7:47.78 at the Alberta Indoor Games. Then, for good measure and also at the Butterdome, she ran the distance almost a full 10 seconds faster, stopping the clock in 7:38.11 at the Alberta Indoor Championships on March 1.
Visser also holds world records at the 3000m and 800m distances.
Continue reading at: www.edmontonjournal.com