Hilbert, Vorderbruegge Win 15th Platinum Performance State Street Mile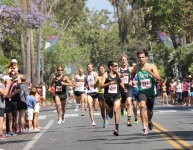 June 01, 2014
Event record-tying six men clock sub-4 minutes; Geoffrey Gray & Brian Duff and Kasey Urman and canines capture unofficial World Championship Dog Mile crowns; 1,000 entrants help raise funds for the District Attorney's Victim-Witness Assistance Program's Crime Victim Emergency Fund
By Bring Back the Mile
► Complete Results
► Photo Galleries
SANTA BARBARA, Calif. – (June 1, 2014) – At the 15th Platinum Performance State Street Mile on a beautiful, sunny Sunday morning in downtown Santa Barbara, Californians Gabriel Hilbert of La Palma and Marina Vorderbruegge of Turlock won the HOKA ONE ONE Elite Miles in 3 minutes, 55 seconds and 4:36 respectively. Both race champions earned $750 in their road debuts for the classic distance. In addition, the men's Elite Mile produced an event record-tying six men under the coveted 4 minute mark (2013 also had six sub-4).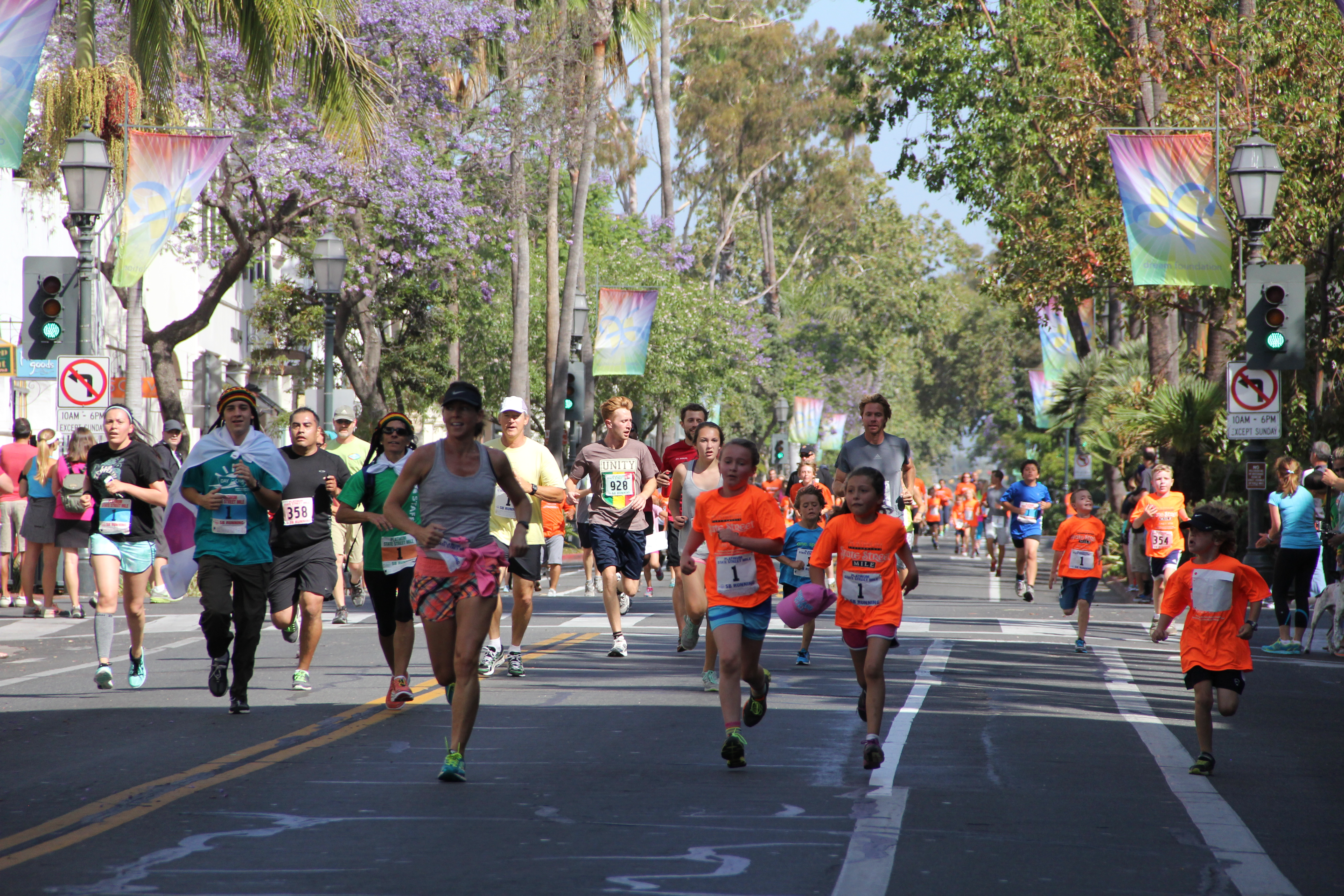 "What a great day to run a Mile! Like past editions, we saw not only exciting competition and fast times, but also hundreds of families as well as dogs with their owners enjoying the event in beautiful Santa Barbara," said race director Megan Rheinschild. "In addition, we paid out a record $4000 in guaranteed prize money thanks to HOKA ONE ONE."
In the men's race, over the point-to-point gradual downhill course, local favorite Tommy Schmitz led the field through the 3/4 Mile mark in 2:57, and in the final 440, Gabriel Hilbert, 2013 UC-Santa Barbara grad Juan Paredes and 2013 Cal Poly SLO grad Aric Champagne made their moves to the finish line with Hilbert, 22, holding off Paredes, 3:55 to 3:56.
"I didn't do any research on the field beforehand, and I tried to stay smooth running downhill and started kicking hard with about 200 yards remaining," recounted Hilbert, a recent Long Beach State graduate and 2013 Big West 800m champion.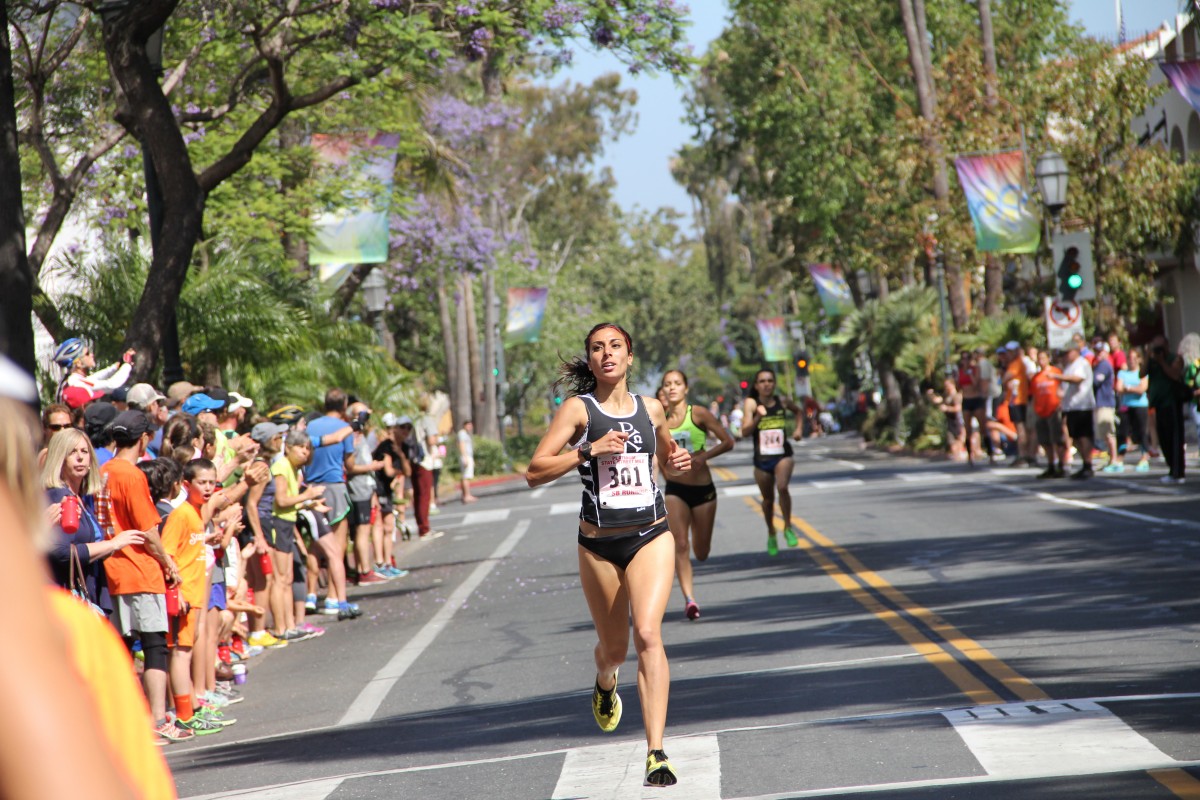 In the women's race, Marina Vorderbruegge, 22, who runs for California State University Stanislaus, was the class of the field as she beat runner-up Rosa Del Toro of Mission Hills, CA by four seconds, 4:36 to 4:40. Defending champion Katja Goldring took third in 4:43.
"I love Santa Barbara; loved the course! At the halfway point there were three of us and later I began to pull away. This was my first road Mile and it is always great to win," said a happy Vorderbruegge whose husband Dawson finished fourth in the men's Elite Mile (3:58).
In the Masters races (40 and older), former Santa Barbara resident Todd Straka, 47, from Boulder, CO and local Desa Mandarino, 43, won their respective races in 4:27 and 5:22. Straka was also second age-graded male Master just edged by Goleta's Mark Fennell, 53, who clocked a 4:39 or 93.82% age-graded, while Mandarino was the top female age-graded Master (85.89%); both took home $175.
For Straka, the Masters win was particularly sweet: "It feels really good because my family and father were here to watch me and I also set a personal best in my hometown."
The event ended with the popular, tail-wagging Dog Mile, the unofficial world championship for man's best friend. Geoffrey Gray and dog Hank Mardukes and Brian Duff and dog Kaydom finished in a dead heat to share the win (4:32). Kasey Urman and her dog returned to claim another women's title in 5:29; the pair holds the female runner and dog course record of 5:02 set in 2012.
The event, which had 13 heats, had approximately 1,000 entrants, with a large field in the YMCA Family Fun Mile. All proceeds from the event go directly to the District Attorney's Victim-Witness Assistance Program's Crime Victim Emergency Fund.
The Platinum Performance State Street Mile is also a Bring Back the Mile Featured Event, showcasing the best Miles across the country and throughout the year.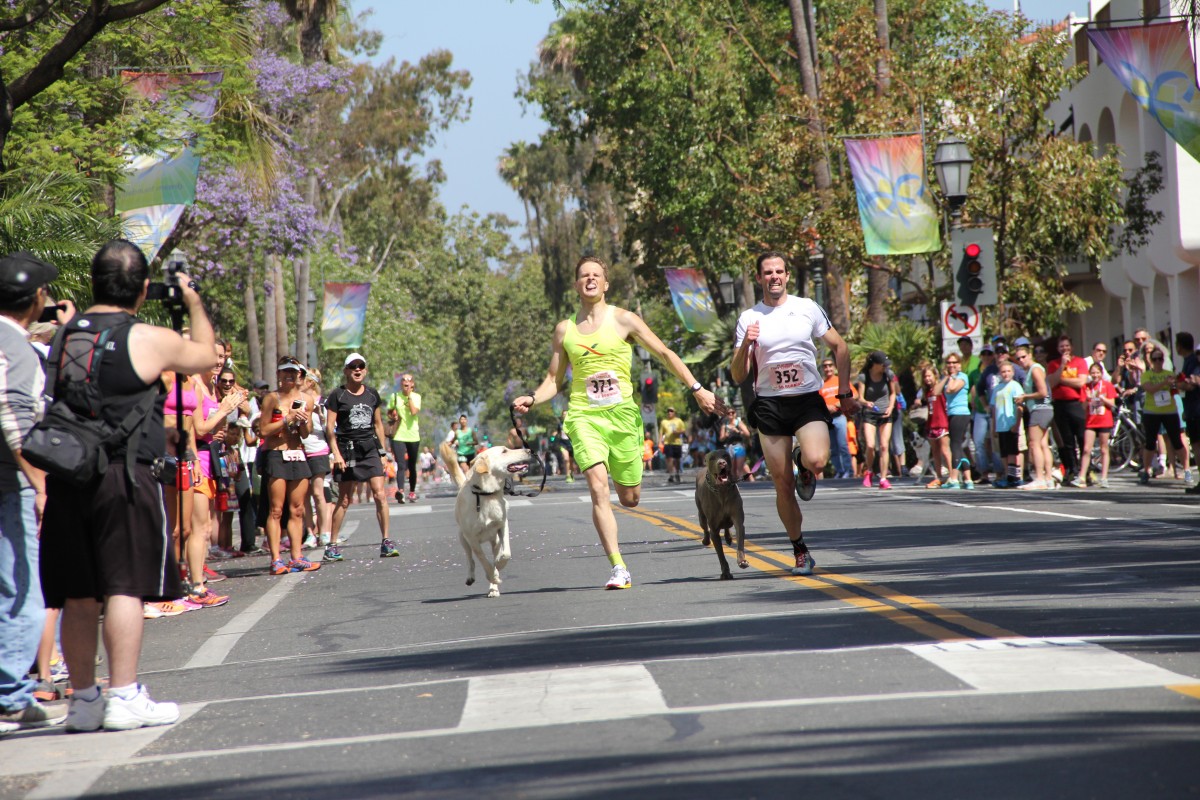 15th Platinum Performance State Street Mile
Santa Barbara, CA, Sunday, June 1, 2014
MEN
1) Gabriel Hilbert (CA), 3:55, $750
2) Juan Paredes (CA), 3:56, $500
3) Aric Champagne (CA), 3:57, $250
4) Dawson Vorderbruegge (CA), 3:58, $150
5) David Cardona (CA), 3:58
6) Cody Jordan (CA), 3:59
MASTERS MEN AGE-GRADED (40 and older)
1) Mark Fennell, 53, CA, 4:39, $175, (93.82%)
2) Todd Straka, 47, CO, 4:27, $100 (93.60%)
3) Brian Nelson, 56, CA, 4:52, $75 (91.80%)
WOMEN
1) Marina Vorderbruegge (CA), 4:36, $750
2) Rosa Del Toro (CA), 4:40, $500
3) Katja Goldring (CA), 4:43, $250
4) Valerie Sanchez (CA), 4:46, $150
5) Erin Gillingham (CA), 4:53
6) Erika Schaeffer (CA), 4:56
MASTERS WOMEN AGE-GRADED (40 and older)
1) Desa Mandarino, 43, CA, 5:22, $175 (85.89%)
2) Liz Groom, 42, CA, 6:03, $100 (75.31%)
3) Heather Reed, 44, CA, 6:17, $75 (74.08%)
For complete results and more, go to: www.sbmile.com