Hiltz, Ryan Win Falmouth Elite Mile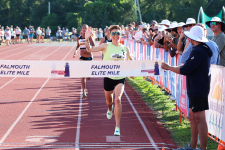 August 20, 2022
Scaroni, Romanchuk Wheelchair champions; Everett, Reilly Tommy Cochary High School Mile titlists; six men go sub-4; $27,000 in prize money awarded
From Falmouth Road Race
FALMOUTH, Mass. – The present and the future of middle distance running put on a show at the 26th running of the Falmouth Track Festival presented by ASICS on Saturday night. A seasonably hot & humid New England summer evening led to tactical, exciting races from high schoolers, elite wheelchair racers and professional runners who took to the fan-lined James T. Kalperis Track at Falmouth High School to compete for $25,000 in guaranteed prize money.
Nikki Hiltz came into the elite women's Mile as the heavy favorite having run 4:21.89 at the Sir Walter Miler in North Carolina earlier this month. In a back-and-forth battle with Kaela Edwards, Hiltz, 27, took the lead at 600 meters, only to have Edwards reclaim the top spot 100 meters later. But with 300 meters to go, Hiltz went to the front for the final time, making a decisive move to win the race, clocking 4:28.93. Edwards was second in 4:30.55.
"This sport is a lot about momentum and confidence," Hiltz said after the race. "I feel like I have a lot of that right now, so it's cool that even on a day where I don't feel great, I can still break 4:30 and come away with a win."
In the elite men's race, all 10 athletes were separated by just one second at the halfway point of. After a 1:59 opening half, the pace quickened with Jye Edwards of Australia and Paul Ryan, a former Washington State standout, out front. With 600 meters left, Ryan moved to the lead followed by Great Britain's Adam Fogg. When the bell rang, Ryan, 25, turned on the burners and dropped a 55-second final lap to break the tape in 3:55.91. Edwards made a late move to the outside to take second in 3:56.36.
"I was pretty confident," said Ryan of his move to the front. "I had a lot left in the tank even though I was leading. I knew that if I could get to 200 meters to go in first and get the wind at my back, I'd get the win."
Each race champion earned $5000 for their victories plus an additional $1000 bonus for breaking 4:30 and 3:56. respectively.
The elite wheelchair races were both led wire-to-wire by two of the best wheelchair athletes in the world.
In the women's race, world record holder Susannah Scaroni had a six-second lead on Yen Hoang by the end of the first lap and the lead only got bigger. After coming through halfway in 1:53, Scaroni cruised to victory in 3:42.55, 15 seconds ahead of Hoang.
"It is nice to add this to my prep for tomorrow," said Scaroni who will compete in the ASICS Falmouth Road Race on Sunday morning. "It's great to be out here just to represent wheelchair racing."
Like Scaroni, three-time ASICS Falmouth Road Race champion Daniel Romanchuk will also compete tomorrow and he also dominated his race on the track. Romanchuk blazed through the opening lap in 49 seconds, putting five seconds on Canada's Alexandre Dupont. From there, it was a time trial with Romanchuk winning in 3:15.91, 23 seconds ahead of Dupont.
"I try not to hold too tight to any kind of plan," said Romanchuk, who holds the Falmouth course record on his plans to chase victory number four. "10 seconds into the race, it's going to change."
Tommy Cochary High School Mile
Amerlie Everett, of Newton South High School, won the girls race in 5:07.19. She came to Falmouth with a 1500 meter PR of 4:26. With 600 meters to go, Everett took the lead from Lilly Jin of Wellesley High School who had led the race to that point. Jin finished the race second in 5:11.01. Rounding out the girls Tommy Cochary High School Mile top three was Ava Criniti from Lexington High School with a time of 5:17.63.
The boys race was won by Marcus Reilly, from Northbridge High School who came to the field with a 1500 meter PR of 3:45.3, in a time of 4:17.99. Reilly sat on the shoulder of Brian Gamble who led most of the race, but with 300 meters left Gamble could not hold off Reilly's crushing push to the line. The final boys Mile podium finisher was Kofi Fourjour, third in 4:22.66.
The high school Mile, which began in 2010 and is held as part of the Falmouth Track Festival, presented by ASICS the evening before the 7-mile ASICS Falmouth Road Race, was renamed 11 years ago in honor of Tommy Cochary, a young Falmouth runner who was killed in a drunk-driving accident in 1990. The road race is a huge part of the family's life, and athletes in the Mile are chosen to compete not only because they are among the best high school Milers in Massachusetts, but also because they embody Tommy's spirit of an active life and fun-loving attitude and because they have shown evidence of making smart choices in their lives.
26th Falmouth Elite Mile
Falmouth, MA, Saturday, August 20, 2022
WOMEN
1) Nikki Hiltz, Flagstaff, AZ, 4:28.93, $6000*
2) Kaela Edwards, Boulder, CO, 4:30.55, $3000
3) Carina Viljoen, South Africa, 4:31.69, $1500
4) Molly Sughroue, Denver, CO, 4:34.78, $500
5) Sadi Henderson, Atlanta, GA, 4:40.24, $250
6) Ellie Shea (high school), Belmont, MA, 4:40.58
7) Melissa Lodge, Providence RI, 4:41.10
8) Karisa Nelson, New York, NY, 4:48.92
9) Katie Follet, Longmont, CO, 4:50.30
*includes $1000 sub-4:30 bonus
MEN
1) Paul Ryan, San Diego, CA, 3:55.91, $6000*
2) Jye Edwards, Australia, 3:56.36, $3000
3) David Ribich, Bend, OR, 3:56.68, $1500
4) Adam Fogg, Great Britain, 3:57.04, $500
5) Jack Anstey, Australia, 3:57.35, $250
6) Rorey Hunter, Australia, 3:57.99
7) Kasey Knevelbaard, Flagstaff, AZ, 4:01.63
8) Colby Alexander, Washington, DC, 4:02.71
9) Vince Ciattei, Eugene, OR, 4:06.97
*includes $1000 sub-3:56 bonus
More event info and complete results here: https://falmouthroadrace.com/events/falmouth-track-festival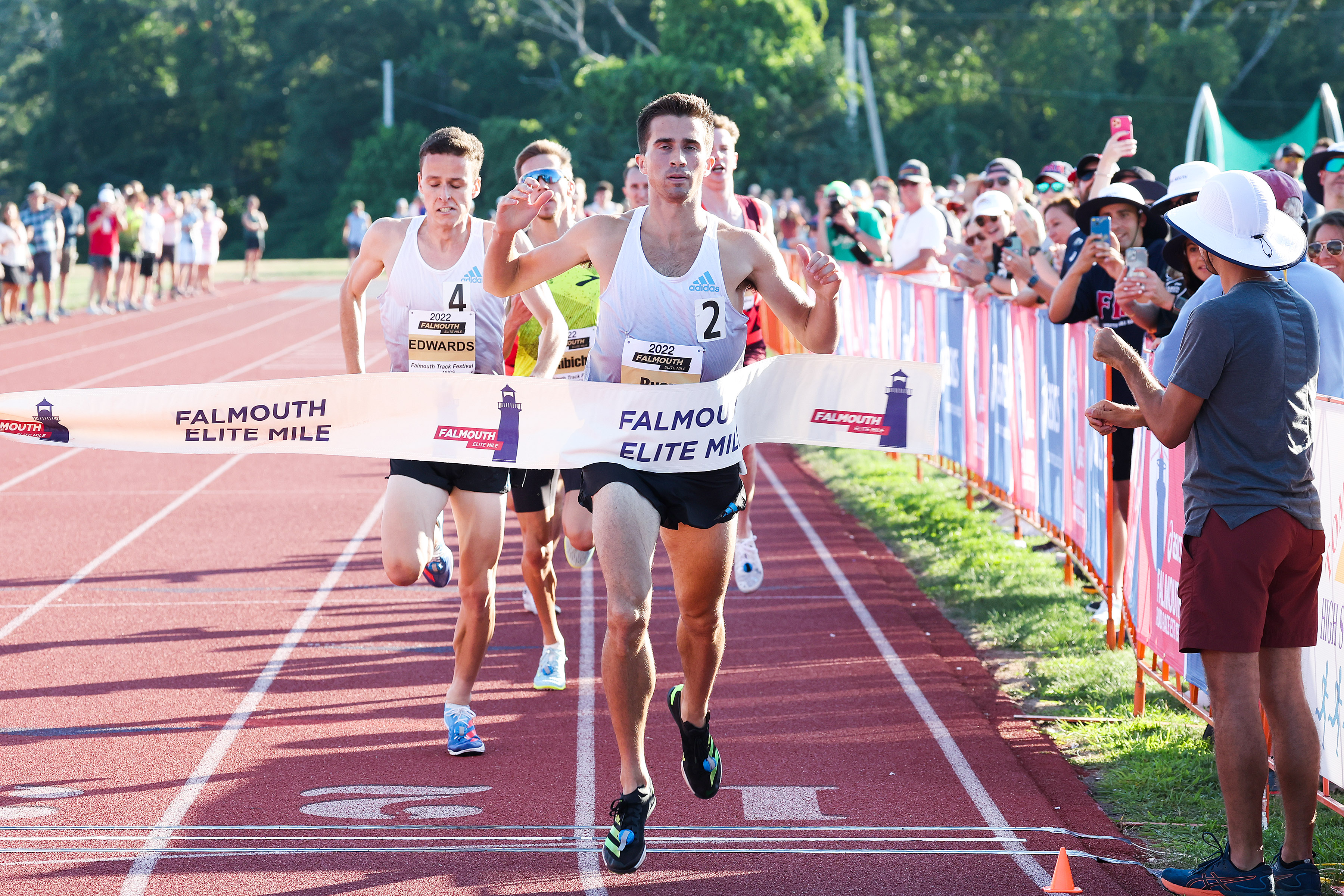 CREDIT: PhotoRun.net