Hobbs Kessler Crushes U.S. High School 1500 Record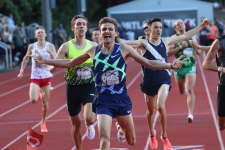 May 30, 2021
"I thought the clock was off for a second. It was cartoonish. It just didn't seem real."
By Jeff Hollobaugh, Track & Field News
Enough talk about potential. On a Saturday night in Portland at Lewis & Clark's Griswold Stadium, Hobbs Kessler (Skyline, Ann Arbor, Michigan) proved to the world that he is the real thing. Just 76 days after turning 18 he ran a gobsmacking 3:34.36 to destroy the American Junior Record that Jim Ryun set 55 years ago (3:36.1); he also demolished Alan Webb's U.S. High School Record from 2001 (3:38.26). Neither of those milestones were the goal.
Kessler entered the Portland Track Festival race with just one objective, the Olympic Trials standard of 3:37.50. He crushed that and also made the Olympic standard to place 5th in a race full of pros where the top 11 all bested 3:36. Up front, Craig Engels PRed to top Britain's Charlie Grice, 3:33.64–3:33.82, with Jake Heyward scoring a big PR 3:33.99, while Henry Wynne took 4th in 3:34.08, also a PR.
Kessler and his coach, Ron Warhurst, had hoped the race would be fast enough to put him at 1200 in 2:55. They figured he could qualify from there. The morning of the race, they spent time with Kiwi Mile legend and two-time Olympic medalist Nick Willis, watching videos to study how to handle the crowded first 200.
Later on, he got a text from one of the assistants at Northern Arizona, where he is signed to run this fall: "He said, 'Put yourself in the race.' I really took that to heart. I didn't want to do what I've done in these other races and go straight to the back. I wanted to be in it and feel the momentum of the race, like ride the wave a little bit.
"I really wanted to get off the line. I went through 100 meters in 13-something. I wasn't dead last, but I was in the back. But then everyone slammed on the brakes. I worked my way up and got in a good spot in the top 5 or 6, somewhere in there. A few guys and the rabbit in front of me and that's where I wanted to be."
He passed the first 400 in 56.6. "I did that and I was like, 'OK, I'm good.' I'm on the wave, I'm in line, I'm on the rail. Then like three guys went by me and I kept letting them in. They were getting into my space and I didn't know how to keep them away. They just put themselves there and I'm like, 'Oh crap. There goes another guy.'"
A second lap in 58.6 brought him to 800 in 1:55.2. "I kept trying to move out and move up. I moved up a little bit going into 800 and I knew I was good. I was feeling really present. At 500 to go, [training partner Mason Ferlic] went by me and I tried to go with him." Ferlic had won the steeple the night before in 8:18.79.
"I went into lane 3 to try to go with him. Then this Brooks Beast kid [Henry Wynne]… I tried to go wide and I got shut down. So I tucked in."
He hit the bell in 2:38.9 — he would need a 58.6 closer to make the Trials mark. He told himself, "I'm in it. I can qualify. I'm in it, I'm in it."
Still, the precocious teen made no sudden moves. He passed 1200 in 2:53.5, well-ahead of his hoped-for pace. "Burned into my mind was Mason passing me, and seeing Mason ahead. I'm like, 'I cannot let Mason beat me.'
"There was a guy on the inside, a gap, Mason, and some other guy. I charged through that gap and passed Mason and thought, 'I'm going to get as many people as I can. Let's run them down.' Time to go for it."
Continue reading at: trackandfieldnews.com
Photo credit: Nike Portland XC
Full race video below with Kessler impressively closing well over the final 100 meters.