How a pair of BYU runners joined exclusive club — on the same day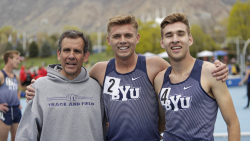 April 27, 2021
Cougars Casey Clinger, Lucas Bons record rare sub-4 minute Mile performances at altitude in Provo... and gave the crowd a show
By Doug Robinson, Deseret News
A little history was made on Saturday, when not one but two BYU athletes — sophomore Casey Clinger and freshman Lucas Bons — broke 4 minutes in the Mile during the annual BYU Robison Invitational — 3:59.02 for Clinger (his first sub-4), 3:59.28 for Bons.
Maybe sub-4s have become almost commonplace in the sport — almost 600 Americans have done so since legend Roger Bannister first did it in 1954, a still resonating feat that was as celebrated as the moon landing at the time — but only once had it been done in Utah. Then, in a single afternoon, both Clinger and Bons did it, too.
"It was a lifetime goal for both of us, so we thought we might as well do it Saturday," said Bons.
There are several reasons that Utah has seen only one sub-4 Mile despite being home to BYU, which has actually produced more standout runners than quarterbacks over the years. For one thing, Utah's elevation — 4,597 feet in Provo — means thinner air, which means less oxygen for runners.
For qualifying times, the NCAA deducts four to five seconds for times at altitude — that's how debilitating altitude can be on runners who are already deprived of oxygen during their efforts. Also, the Mile is rarely contested in collegiate outdoor competitions; it was replaced by the 1500 meters decades ago when the sport went metric (it's about 109 meters short of a Mile). The Mile is widely contested in indoor collegiate meets.
Bons, who ran a 3:55.45 indoor Mile in Seattle in January, and Clinger are the eighth and ninth BYU athletes to run sub-4s, and most of them have occurred indoors. The list does not even include Olympians Jason Pyrah and Henry Marsh, who managed the feat only after leaving BYU.
Still, despite all those accomplished runners, no one had run a sub-4 Mile on a Utah track until 1983. That year, Doug Padilla, a two-time Olympian at 5000 meters who had graduated from BYU in 1981, took the suggestion of a newspaper columnist and arranged to have a special Mile race during a BYU track meet with the specific intent to become the first to break 4 minutes on Utah soil. With fellow Olympian Henry Marsh rabbiting the first 1000 meters, Padilla clocked 3:57.23, still the fastest American sub-4 time at altitude.
Continue reading at: deseret.com