Howard, Anstey win Yakima Mile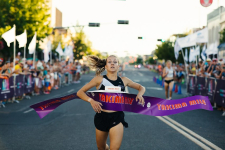 July 01, 2023
Event record turnout for 4th edition; $29,200 prize purse awarded
Race summary from Luke Thompson, Yakima Herald-Republic & BBTM
YAKIMA, Wash. – The Yakima Mile turned into an impressive warmup for a Pasco runner headed to next week's USA Track & Field Championships in Eugene, Ore.
Marisa Howard, 30, pulled away around the half-mile mark and just kept widening the gap, winning by three seconds in a time of 4:30.5 (4:31 official) over Grace Barnett. Two years ago, Howard held a brief lead before finishing third when Nikki Hiltz recorded the fastest women's Mile in Washington, clocking 4:21.5.
"Our goal was really for me to work on patience," Howard said. "A few summers ago when I was racing these road miles I would just gun it and run a fast time and maybe get like third or fourth, but we really wanted to work on closing."
At the 4th edition, Jack Anstey, 26, also finished strongly to cruise to a win in the pro Mile at 3:58.5 (3:59), two seconds ahead of Tom Anderson. On the point-to-point, gradual downhill course, the Australian who ran at Illinois State said he wanted to be decisive when he made his move and felt comfortable enough to take in the moments before he crossed the finish line.
"You just don't get this on the track, to have a finishing chute with literally hundreds of people screaming," said Anstey (below), who plans to compete at the Liberty Mile in Pittsburgh next Friday. "I think a lot of the road miles just have a good community aspect and you can definitely notice that here."
Both race champions, who each took home $5000, posted times several seconds slower than past year's winners such as Sam Prakel (2021-22) and Hiltz who are racing this coming week at the USA Outdoor Championships for berths on Team USA for the World Championships in Budapest.
On a warm, breezy summer evening, there were more than 900 registered runners with an event record 760 finishers in 11 heats.
4th Yakima Mile presented by Home2 Suites / Tru by Hilton - Yakima Airport
BBTM Featured Event
Yakima, WA, Saturday evening, July 1, 2023
MEN
1) Jack Anstey (AUS), 3:59, $5000
2) Tom Anderson (GBR), 4:01, $2500
3) Jordan Macintosh (CAN), 4:02, $2000
4) Evert Silva (CA), 4:03, $1000
5) Clayton VanDyke (OR), 4:04, $750
6) Will Laird (WA), 4:04, $500
7) David Timlin (IL), 4:04, $250
8) Chase Howard (ID), 4:09, $200
9) Daniel Sealand (OR), 4:11
10) Micah Goff (WA), 4:15
11) Matt Palmer (OR), 4:16
WOMEN
1) Marisa Howard (ID), 4:31, $5000
2) Grace Barnett (CA), 4:34, $2500
3) Katie McCune (MO), 4:37, $2000
4) Amelia Keyser-Gibson (OR), 4:39, $1000
5) Claire McCune (MO), 4:43, $750
6) Sara VanDyke (OR), 4:48, $500
7) Lindsey Adams (NV), 4:49, $250
8) Meg Wegenaar (TX), 4:52, $200
9) Haley O'Connor (WA), 4:55
10) Jessie Rubin (MD), 5:01
Complete race results HERE.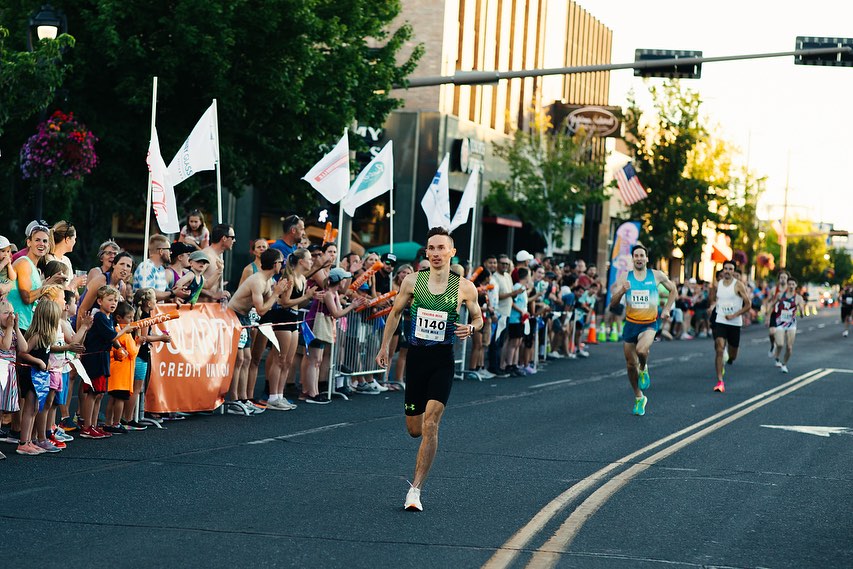 CREDIT: Somer Kreisman