HS runner Matthew Maton runs a historic sub-4 Mile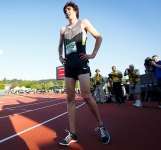 May 09, 2015
"This week I couldn't sleep, I kept thinking about 4 minutes. I know you aren't supposed to think about it, but I couldn't stop."
By Christopher Keizur, Daily Emerald
At the bell, three athletes sprinted around the curve, spurred on by the cheering of the Hayward faithful. The runners were competing as part of the men's Mile, the final event of the Oregon Twilight that was hosted by Oregon track & field on Friday night, May 8.
The aim of every athlete running in the event is to break the benchmark sub-4 minute Mile, perhaps the most significant time goal and gold standard in American track & field. It's been done by just 42 Ducks in the history of the program and only five athletes have ever accomplished the goal in high school.
High school senior and Oregon recruit Matthew Maton (above, right) was hoping to add his name to that exclusive list at the Twilight.
"Once I scheduled this on my meet I marked it, and said if it's going to happen, its going to happen here," Maton said.
Maton was running as part of a loaded field featuring many talented entries. He was joined by elite current and former Ducks.
Five athletes represented Oregon: senior Eric Jenkins, senior Will Geoghegan, senior Trent Warren, junior Chris Brewer and senior Cole Watson. Both Jenkins and Geoghegan have been good this year, combining with sophomore Edward Cheserek to form one of the most threatening distance crews in the country.
In an attempt to help keep the pace of the race high, Mac Fleet (Nike OTC Elite) and Matt Miner (HOKA ONE ONE) returned to their college home to run as rabbits (pace-setters) during the race. Fleet is a recognizable name for fans. He was the 2013-14 NCAA 1500m champion, holds two school records and was a seven-time All-American.
Continue reading at: dailyemerald.com
U.S. sub-4 high school list HERE.