Island pupils ready for daily Mile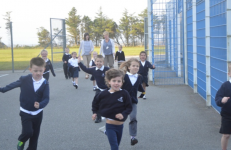 September 22, 2015
"For us, the Mile is a non-competitive activity with no start and finish, so pupils can run at their own pace and everyone regardless of age, ability or circumstance can get involved."
From The Stornaway Gazette
A Mile in 15 minutes – could you do it? Well pupils at Isles' schools are setting the pace by committing to walking or running a Mile each day.
The results of this exercise boost speak for themselves as the English Primary 6/7 class at Sgoil a Bhac in Lewis described how the initiative was a 'good idea'.
All 105 pupils at the school take part and are already improving their fitness levels just weeks into the new routine.
Acting Headteacher Donna Macdonald described how the idea came about: "Our head teacher (Donald Macleod) had heard about the initiative and as a staff we decided to introduce it to the school, some other schools are also doing it.
Continue reading at: www.stornowaygazette.co.uk