Jenny Simpson claims the USATF 1500 title; a banged up Shannon Rowbury is second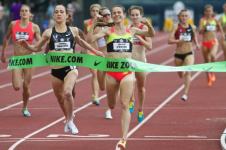 June 30, 2015
"I didn't go to the front. I didn't make something happen until later in the race. But even though I was out of my element, I was still confident I could execute this well."
By Ken Goe, The Oregonian
Jenny Simpson patiently bided her time Sunday until she struck.
When she struck, she struck hard.
Simpson won the women's 1500 meters in the USA Outdoor Track & Field Championships before 10,746 on a cool, overcast day at Hayward Field.
Simpson finished in 4 minutes, 14.86 seconds.
The Nike Oregon Project's Shannon Rowbury, who had to fight her out of a box on the back straight, had too much ground to make up on the home straight.
Continue reading at: www.oregonlive.com