Jenny Simpson Tries to Keep Winning Streak Alive in 1500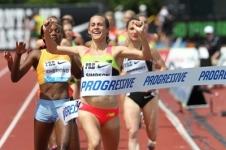 July 09, 2015
Simpson said after USAs that she has no plans to attack Mary Slaney's 3:57.12 U.S. record prior to Worlds. That said, if it's going to take 3:57 to win the race — and with this field, it could — the record is in jeopardy.
From LetsRun.com
On July 5, 2014, Jenny Simpson ran 3:57.22 for 1500 meters in Paris, the second-fastest time ever by an American woman. She finished second to the Netherlands' Sifan Hassan in that race; we're now over a year removed and Simpson has yet to lose another 1500.
Though the 1500 at the Prefontaine Classic wasn't officially a Diamond League event, it was DL-caliber (Mercy Cherono, Sifan Hassan, Shannon Rowbury). Aside from that, Simpson has three straight DL victories and two straight USA titles. During the streak, Simpson has relied on a terrific final 100 to put her rivals away; no other woman holds her form as well at the end of a race than Simpson.
Simpson has to enter Lausanne as the favorite, but she will be tested. Hassan will obviously be a threat. She's finished second (Doha), third (Pre), second (Rome) and first (Birmingham) in her four 1500s this year, was the world leader last year and is has the #2 time this year behind Simpson. World Junior champ Dawit Seyaum, the other sub-4:00 woman on the year and winner in Doha, is dangerous as well.
Continue reading at: www.letsrun.com