Joe Falcon reflects on Dream Mile victory 25 years ago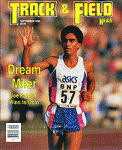 August 13, 2015
"I remember as a kid watching the Dream Mile on television and, to me, outside of the Olympic Games and World Championships, the Dream Mile was the Super Bowl of all Mile races."
By Jeff Benjamin, RunBlogRun.com
"Each day is a different opportunity."
So said Bentonville, Arkansas Police Lieutenant Joe Falcon the other day. Retired from competitive running since 1994, the many time former Arkansas NCAA Champion and family man has thrived and succeeded in his life over the past 20 years with the same passion and attitude he possessed when he was one of the world's greatest Milers. "I'm in a position now where I groom the young officers," he said. "I oversee an entire division and it's a great team atmosphere just like the University of Arkansas. I can't thank Coach John McDonnell and Arkansas for all they did for me. I learned all about teamwork and Coach McDonnell showed me what passion looked like, and I still carry it with me today."
That drive and passion culminated with Falcon's great victory at the Bislett Games Dream Mile in Oslo, Norway, 25 years ago on July 14, 1990, where he defeated a field of some of the world's best Milers and was the champion on that day, clocking 3:49.31, still making Falcon the 4th fastest U.S. Miler all-time. He is also the last American to win the Dream Mile on the fabled track.
Continue reading at: www.runblogrun.com