Kampf claims her 4th straight KPMG Front Street Mile title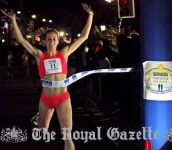 January 16, 2016
"Every time I come back it is even more special because this place feels like another home to me."
By Colin Thompson, The Royal Gazette
Heather Kampf stormed to a fourth consecutive KPMG Bermuda Invitational Front Street Mile title in the elite women's race in front of another bumper crowd on Friday night.
The American ran a very smart tactical race and used her knowledge of the local conditions to her advantage to become the first woman to claim four titles in the popular event.
Kampf was forced to come from behind after trailing Kenia Sinclair, the Jamaican race record holder, most of the way, before surging ahead down the final stretch as her rival's gamble to break away from the field early ultimately backfired.
Continue reading at: royalgazette.com