Kerr, St. Pierre, Hiltz to Headline Fields at New Balance 5th Avenue Mile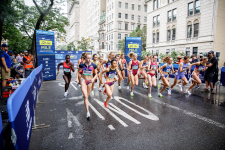 September 05, 2023
NBC to broadcast race 1-hour live nationally; USATF.TV to stream event internationally; $32,000 pro prize purse available
From NYRR
NEW YORK – World champion Josh Kerr, U.S. Olympian Elle St. Pierre and American Mile record holder Nikki Hiltz will headline a world class professional athlete field that spans 14 different countries at the New Balance 5th Avenue Mile on Sunday, September 10. The New Balance 5th Avenue Mile – the world's most iconic road Mile race since 1981 – stretches 20 blocks down Manhattan's most famous thoroughfare.
Great Britain's Kerr will arrive in New York fresh off winning a World title in the 1500 meters in Budapest; he is in search of his first victory on 5th Avenue in his second appearance in the event. Kerr also owns an Olympic bronze medal in the 1500m from the Tokyo 2020 Games.
"Winning the World Championships was the culmination of every step of running I've ever taken," Kerr said. "Now, my confidence is higher than it's ever been, and I have some unfinished business to take care of on 5th Avenue."
Lining up against Kerr will be New Zealand's 5000m record holder George Beamish, and an American contingent led by 2023 Falmouth Mile champion Johnny Gregorek, last year's 1500m national champion Cooper Teare, two-time 5th Avenue Mile podium finisher Sam Prakel and U.S. Olympian Woody Kincaid.
In the women's race, U.S. Olympian St. Pierre will make her return to New York for the first time since finishing as runner-up at the event in 2019. It will also be her first race back since giving birth in March.
"My preparation for the New Balance 5th Avenue Mile this time has been different, as I fit training around feedings, nap time and playing with Ivan," St. Pierre said. "But my body feels good, and the workouts have been solid. I'm excited to be back on 5th Avenue this weekend."
She will be joined at the start line by Hiltz, Great Britain's 2021 New Balance 5th Avenue Mile champion Jemma Reekie, Great Britain's reigning 1500m champion Katie Snowden, Mexican record holder Laura Galvan, Australian record holder Jessica Hull, Japanese record holder Nozomi Tanaka and Jamaican record holder Adelle Tracey. Olympic steeplechaser Courtney Frerichs and four-time NCAA champion Dani Jones will also toe the line for the U.S.
The $32,000 pro prize purse goes 7-deep per gender with $5000 to each race champion.
In addition to professional athlete and age group heats, this year's New Balance 5th Avenue Mile will feature Back to School Mile heats for youth, a New Balance Run Your Way Mile for first-time marathoners using NYRR Coaching Lab, a George Sheehan Memorial Mile for seniors, an NYPD and FDNY heat for service members, and NYRR Road Mile Championship races.
The sold-out event is also the largest Mile race in the world with 8,500 participants
In partnership with NYRR and USA Track & Field, NBC will broadcast the event nationally from 12:00 to 1:00pm ET. The broadcast will feature live coverage of the professional athlete races as well as a recap of the day's earlier heats. Live coverage of the event will be available internationally on USATF.TV.