Last One on the Books: The Complete Story Behind Centro's NY State Record Mile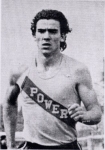 May 07, 2019
"I loved the competition, loved the travel, and loved wearing the USA uniform. I never wanted this to end."
By George Kochman, MileSplit NY
Last year, something special happened. Four boys from Northport High School broke the Outdoor 4 x 800m State Record, originally set back in 1966. Chronicled in the legendary short story "Me and Julio Down by the Schoolyard" by Marc Bloom, it was then the oldest State Record New York had on the books. With that mark erased, a new "Oldest Record on the Books" would take center stage.
On June 23, 1973, a young man from the now-defunct Power Memorial High School named Matthew Centrowitz, ran to a mark of 4:02.7 for the Mile, setting a New York State Record that would still be going strong 46 years later. Most know the time, but not many know the story.
Now coaching at Manhattan College, we tracked down Centrowitz, to retell his story, and shine a light once again at the fastest Mile ever run by a New York HSer. The Loucks Games, to be held this week, is one of many meets in New York that still races the Mile distance, despite the conversion to the metric system for most races years past. It allows athletes to take a chance at matching history once again. Without further adieu, we bring you that history.
It's been more than 45 years since Matt Centrowitz set the New York State record for the Mile, and runners have been taking aim at the mark, with another crop determined to smash the venerable record.
Matt Payamps of St. Anthony's, Matt Rizzo of Bronxville, Shea Weilbaker of Saratoga Springs, and a host of others will zero in on Centrowitz's mark this spring. They've memorized the number, if nothing else.
Little do they know, Centrowitz' legendary high school running career began almost by accident.
As a freshman at Andrew Jackson HS in Queens, Centro tried out for the pole vault, then abruptly decided he didn't want to get banged up and hurt. He chose running instead.
Under the tutelage of legendary PSAL coach Milt Blatt, Matt ran a 4:30 Mile as a high school freshman at Jackson, winning the city PSAL freshman championship.
A less-than-ideal family situation resulted in a move to the Bronx, very near to Van Cortlandt Park, and a subsequent enrollment at Power Memorial Academy.
EDITOR'S NOTE: Matt would run alongside his younger brother, Jerry Centrowitz, who would in turn be part of the 1974 State Record 4 x Mile team the year after Matt graduated Power, splitting 4:21.7 to contribute to the 17:19.6 total mark.
Power Memorial proved to be an ideal setting for Centrowitz. Power was, in an apt word, powerful and there were training partners for a young sophomore. Ray Naudain, Joe Barbary and Ed Walsh were among the stalwarts of a strong team that thrived under the guidance of Brother John Bielen.
"Both coach Blatt and Brother Bielen taught me the value of hard work," Centrowitz recalled..
Continue reading at: ny.milesplit.com