Lawi Lalang Looks to Make History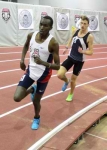 March 13, 2014
Can Arizona Wildcat senior take unprecedented three NCAA Indoor titles: Mile, 3000m and 5000m in same meet?
By Sean Collins, Arizona Athletics
Nobody in collegiate track & field history has ever won three individual titles in one NCAA Indoor Championship meet. Senior Lawi Lalang, one of the best distance runners in collegiate history, will look to be the first.
For Lalang, distance coach James Li and Director of Cross Country and Track and Field Fred Harvey, this plan took months of strategy and training. In 2012, Lalang won NCAA Indoor Championships in both the 3000 meters and 5000 meters. That meet consisted of two races in two days. For the 2013 NCAA Indoor Championships, Lalang upped the ante and tasked himself with running three races in two days. He ran the preliminary round of the Mile on day one then followed up on Saturday with the final of the Mile and the final of the 3000. He earned first-place finishes in both races.
"I talked with Coach Li first," Lalang said. "Then, we both talked to Coach Harvey and he told me that he thinks I'm capable of doing it. He just said, 'go for it.' Then I felt, okay, I can do this."
Looking at all the success he had the two previous meets, Lalang, Li and Harvey decided to do all three this year. The Mile, 3000 and 5000 equates four races in two days.
Continue reading at: www.arizonawildcats.com