LetsRun.com Exclusive: Chapter Two of Matt Centrowitz's New Book "Like Father, Like Son"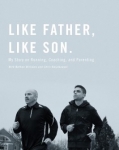 February 05, 2017
Centrowitz is pretty darn confident you'll enjoy his book. Why do we say that? Because he's letting LetsRun.com visitors read a whole chapter for free.
By LetsRun.com
Matt Centrowitz, the two-time Olympian and former American record holder at 5000 who is perhaps best known these days for being the father of 2016 Olympic 1500m gold medalist Matthew Centrowitz, has self-published an autobiography about his life, his views on running, and the important role coaches and fathers play in people's lives entitled Like Father, Like Son: My Story on Running, Coaching and Parenting. LetsRun.com co-founder Robert Johnson read a pre-publication edition of the book and loved it.
The book is now live on Amazon. So please purchase the book and read it. Then come back in a month and be a part of the first-ever LetsRun.com Virtual Book Club. To encourage you to read the book and thank you for supporting him, Centrowitz has agreed to do a podcast with LRC where LetsRunners can ask him questions they have after reading the book.
NOTE: The version below is a pre-publication version of chapter 2 so the actual chapter likely will have a few more edits to it.
CHAPTER TWO: THE BRONX Track saves people. I believe that. As a runner, a coach and a father, I've seen it time and time again.
At the very least, it saved me.
Continue reading at: www.letsrun.com