Made to Run: Road Mile Queen Heather Kampf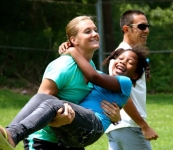 April 19, 2015
Reigning BBTM Grand Prix Tour champion: "One of my favorite memories of Pittsburgh was going on a school visit in the Homewood neighborhood."
By Steel City Road Runners Club
Most of us remember Heather Kampf from when she visited Pittsburgh and won the 2013 GNC Live Well Liberty Mile, but the Team USA Minnesota member has accomplished far more. She placed 7th at the 2012 U.S. Olympic Trials 800 meters and won the 2012 USA 1 Mile Road crown. She has won various road races along the way including many Mile road races to earn the nickname: The Queen of the Road Mile. Brittany Goncar interviewed Heather about nutrition, motivation and, of course, when she's coming back to Pittsburgh.
Nutrition is a key part of performing, but we all like to indulge sometimes. What is your go-to comfort food?
I tend to go in spurts of my favorite treats, but the one thing my husband and I always keep around the house for a fix is dark chocolate M&Ms!
We all run for a reason. What motivated you to start running? What keeps you running today?
Honestly, my original purposes in running were just to try to beat the boys in our PE physical testing mile run. At the time, gymnastics was my main sport, but my coach suggested I give track a try. He wasn't the first person to say this, and finally I just realized, if this truly is my gift, it would be a shame not to explore where it could take me.
As it turns out, a bit of nudging from people, and a sense of responsibility to honor my Creator who made me to run- evolved into a life that has been entirely enriched by the sport.
Today, my motivations continue to be about nurturing this gift to see how far / how fast it can take me. I want to find out what my absolute best potential is, and share it with the world. It certainly helps that I just love the freedom of movement I feel when I run and push myself to the limits, plus my involvement in running has helped me to build an incredibly supportive community. I feel like I'm doing it for us when I succeed, not just me. I have big goals about times I want to break, and U.S. National Teams I'd like to make, but so long as I embrace the process, learning from the good and bad that comes along the way, I feel I am constantly moving closer, towards making a legacy of my career that would allow me to continue to inspire others long after I decide to step away from 'fast' running (I say it this way because I don't really see a point in my life where I'd walk away completely from running unless I were physically unable to continue).
Continue reading at: www.steelcityrrc.org