Making the Most of Your Mile: Inaugural Boxcar Mile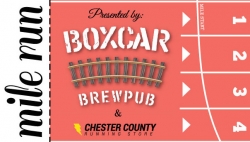 August 12, 2015
A community race rises in West Chester, PA with $8400 in prize money and a post-race party for all; a Bring Back the Mile Featured Event 2015
By Bring Back the Mile
A long time ago (2012), in a galaxy far, far away (United States), around the time BBTM began, we were thrilled to hear about races popping up with event directors scrapping together $1000 here and $1000 there. Only three-plus years later we seemingly get regular news that another event has popped up, and many inspired by the BBTM movement, with a true passion for creating a festival like atmosphere for Track & Field fans as well as providing opportunities for professional athletes to take home a paycheck. And most have one central component to it: The Mile.
The Boxcar Mile in West Chester, PA is one such event that is celebrating its inaugural edition on Thursday evening, August 13 with more than $8000 in prize money for the West Chester Running Company Elite Women's Mile and the Hoey Investments Elite Men's Mile.
We sat down with event director and co-owner of the Chester County Running Store, Kevin Kelly, to discuss how it came together in their community and what we can expect from the Boxcar Mile to be run at Henderson High School's track. The elite races will be headlined by NJ*NY Track Club's Jack Bolas and Under Armour's rising star Rachel Schneider.
BBTM: What was the impetus for the Boxcar Mile?
Kevin: We have been hosting events in the community for years and we thought we could pull together a nice elite Mile field, race community Miles and provide a great environment for fans. We also have a Chester County XC Camp ongoing right now and the participants will all be invited to come out and watch the races on Thursday evening.
I spoke to New Jersey / New York Track Club's Frank Gagliano (Gags) about the event and asked if he thought some of his athletes would be interested. There was immediate support and a couple of his athletes including Jack Bolas, Ford Palmer, Ashley Higginson and Heather Wilson will be running tomorrow evening. Terrence (Mahon) of the BAA has also been supportive and will have Emily Lipari competing. Recently, we added Rachel Schneider to the women's field who has been having a great year.
How did the organizers pull together a nice prize purse for the inaugural event?
We were fortunate to be able to provide support from our Chester County Running Store, but also our local Chester County Running Club, Hoey Investments and of course Boxcar Brewery stepped up to help us put on this race. We're thrilled to be able to provide the prize purse we are in our first year.
What will the elites have to run to earn a share of the prize purse?
We're looking for sub-4 minute Miles for the Men and sub-4:37 for the Women. Gags was very encouraging to include performance milestones to make it exciting for the community. We will have rabbits for them with Men going through the halfway mark in 1:57 and 2:14-15 for the Women. Our Men's field filled out well, but it was more difficult to do so on the Women's side. We noticed that was a challenge in many races across the country, but I think we've managed to do a good job in year one.
Is there a community race for the public to try their hand at the Mile?
We will have Citizen's Races to kick off the night at 6:45pm. We will have as many heats as necessary based on seed. Runners can pay $15 for the Mile and get a great shirt from Brooks and Boxcar prizes.
Our running community in Chester County is great and we're anticipating a good crowd out there. For many it's new to run a Mile on the track, but we know they'll love it once they take it on. It's free for anyone to come out and watch, we're going to have music on the backstretch and have a really good time.
The event is named after the Boxcar Brewery that is also the host of the post-event party. What can people expect on Thursday evening from the races and the party?
It's a fun location and we are going to host the awards as well as show the videos from the evening's races up on the stage. Everyone is welcome to attend!
Good luck Kevin and go Boxcar Mile!
Thank you.