Making the Most of Your Mile: Newport-Mesa Spirit Run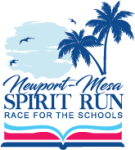 March 15, 2018
Celebrating its 35th edition, the Newport-Mesa Spirit Run: Race for the Schools takes place on Sunday, March 18 and is also the host of the USATF Southern California Road Mile Championship
By Bring Back the Mile
The Newport-Mesa Spirit Run, a BBTM Featured Event, is enjoying its 35th edition and truly has something for everyone including 5 adult races, 7 youth races, 5K and 1-Mile Family Walks, Dog Mile and the elite USATF Southern California Road Mile Championship. In 2017, Reid Buchanan won the elite Mile in 4:06 and then doubled back in the 5K, winning it in 14:51, while in the women's Mile, Tori Tsolis also set a race record, clocking 4:42. Mile legend and Olympian Steve Scott serves as an event ambassador and participates in the Youth races.
The event has raised more than $1.5 million and continues to raise tens of thousands of dollars each year for the community. We sat down with event director, Diane Daruty, on the eve of the event to discuss its impact on the local schools as well as the Southern California running community.
Learn more and register for the Spirit Run at: www.nmspiritrun.org
BBTM: It's impressive to be celebrating your 35th Anniversary! Tell us about the genesis of the event and how it is grown since inception.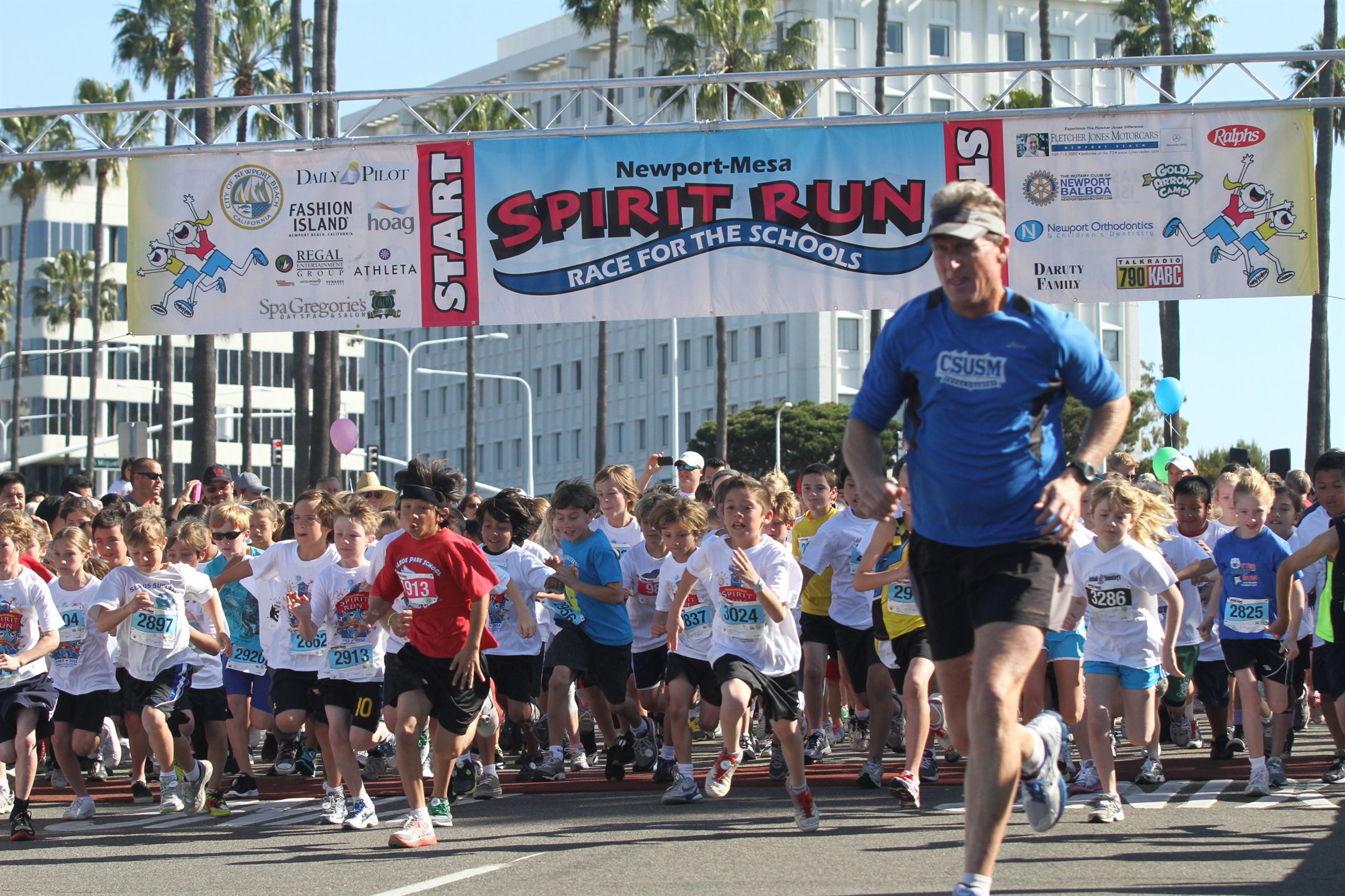 Diane: It started 35 years ago with the idea of a teacher at a local elementary school here in Newport Beach and it began with three Newport Beach elementary schools in 1983. Over the next 20 years or so a couple of other schools opened in our zone within the district and the PTA members from the original schools invited in the two new schools in our district's zone. The PTA members from each of the schools ran the event with myself joining in 2005. My kids were at Eastbluff Elementary and I had also started a running program there.
I continued to help for several years and in 2010 the PTA members decided to not do the Spirit Run anymore and just have individual jog-a-thons, which were more profitable to them. By that point I had been in charge of the event the previous three years and had fallen in love with the Spirit Run. I had a lot of the relationships with the City and sponsors and I decided to start a new non-profit called Newport-Mesa Spirit Run, Inc. The first thing I did was get a Board of Directors composed of different parents across the community.
The first thing we did was to expand the even from the original five Newport Beach elementary schools to invite all the schools within the Newport-Mesa Unified District. Our second thing was to make sure everybody could participate. We made a commitment to provide scholarships for a free entry to the event and also free buses to help them get to the event.
We also started doing running training programs at some of the lower income school. While I'm not doing that as much myself anymore, I was lucky to be able to recruit members of the UC Irvine Track & Field team to help train the kids. In addition to the entries, buses and training program, the schools also get a donation after the event. We're able to donate all of the money that we make from the net proceeds to benefit youth education and fitness in our schools.
It's also been evolving a little bit, but we're now inviting high schools and clubs to fundraise through us. For example, the Newport Harbor Girls' Lacrosse makes a couple of thousand dollars. The Corona Del Mar local music department does a big fundraiser. Their students sing our multiple national anthems and they've raised over $10,000. In addition to that, starting last year, we began inviting schools outside our district to be included as part of a commission based program we call Dash for Cash.
That's the fundraising aspect of the event, but we also want to celebrate runners and fitness at all levels. We care about the adult races and wanted to grow and make the event more interesting, so we also now do age group Miles, elite Miles and Family Miles. We also do the Dog Mile!
With the elite Mile, we're trying to honor them with prize money, accolades and they are invited into our VIP experience. We know how hard they work and they don't always get as much acclaim as they should.
Does the Spirit Run have any full-time staff?
Not only is the Board of Directors all volunteer, we also donate $10,000 a year toward event expenses. We're very, very passionate about the event and what it means; I've had pretty much the same board. We do hire a social media person and the race logistics and permitting process. But, that's it. We do as much of it as possible with volunteers.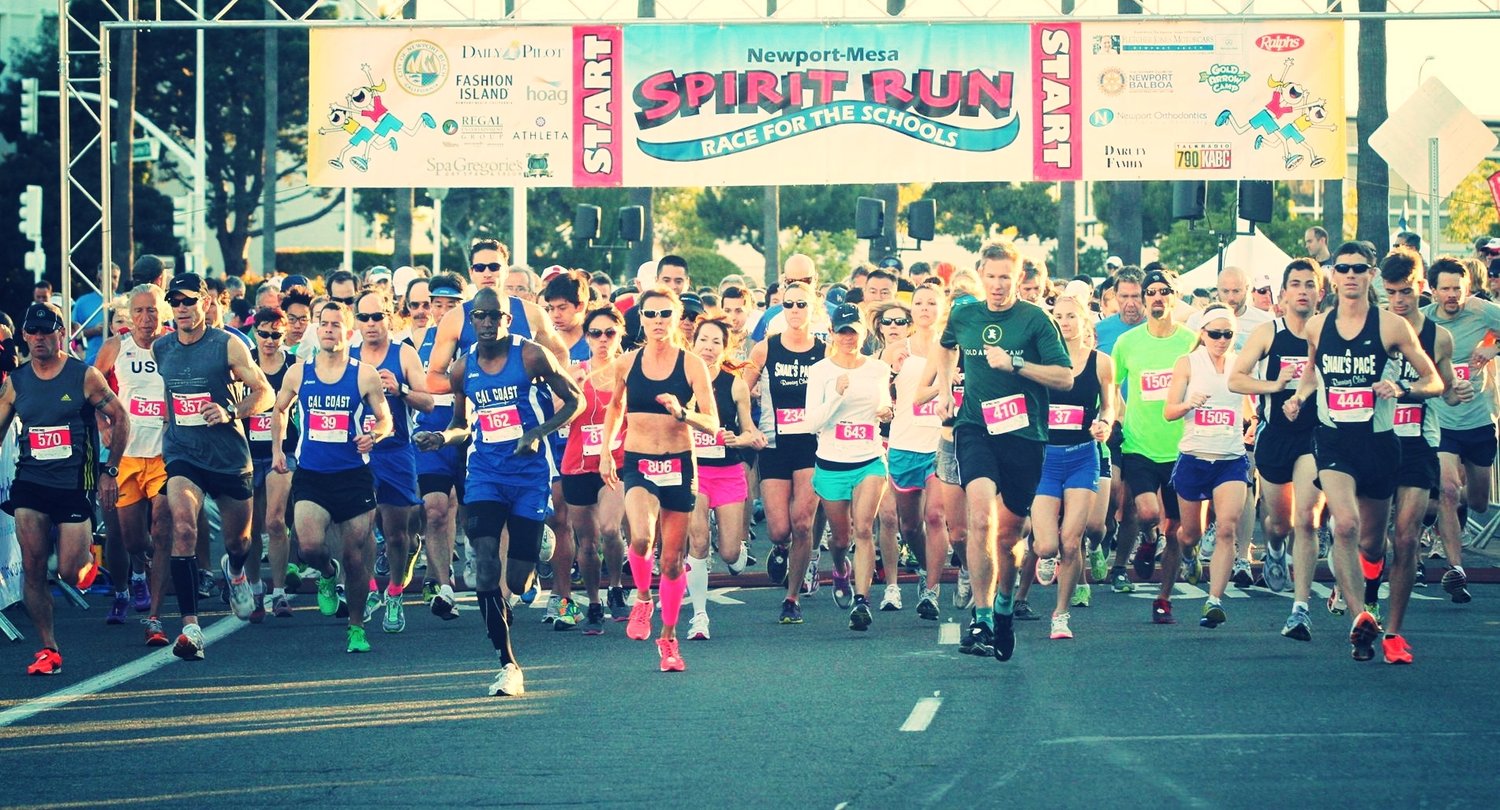 How has the Board developed the relationships necessary to continue to drive success with the Spirit Run?
It's a marathon mentality; I have a drive and a passion for this. I started working with the City as far back as 2007 and built it up slowly. With USATF, as soon as we had the idea of the Mile, I had the Open Road Chair out here to see the great course. I would say persistence is the key and proving yourself over time. The City of Newport Beach has been great to us.
How much has been raised over 35 years and what is the 2018 goal?
I don't have the exact numbers for all the years, but I believe it is around $1.5 or $2 million. Since I've started the non-profit we've donated over $330,000 in the last seven years. Last year we were close to $40,000. This year if we donate $30-$50,000 that would be great. It's been harder and harder to get sponsorship money and we're also focused on growing registration revenue.
How do you share the story of the event and what can participants expect to experience at the Spirit Run?
It depends on the audience. When we're talking to people who love running or the Mile, I tell them that we have a very fast Mile course. Come out and set a PR. But you can also then stick around and run one of the other races. We have a lot of great sponsors who give us great prizes. In addition to the $3800 prize purse in the elite Mile, while we have over 250 non-cash prizes. Some people will even do three races. Julie Erdel, a two-time Olympian in Water Polo and Triathlon. Last year she ran the 10K, Open Mile and the 5K. She walked away with two certificates for Blaze Pizza every month for a year, two massage certificates and a check. That's something we sell for the more serious runners.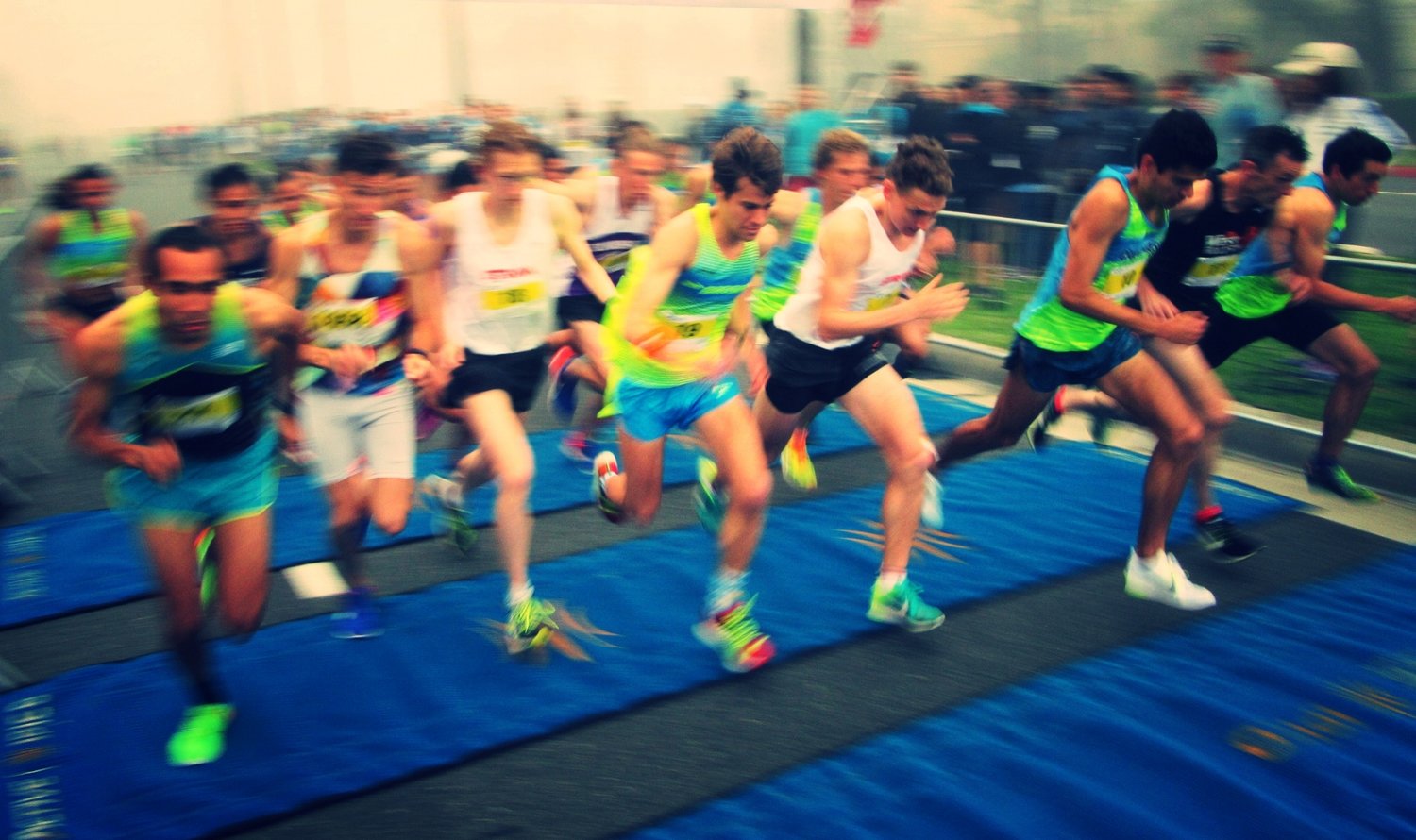 For the community, we tell them to come out and join their neighbors, come out for a great day of fitness and fun. Help the community raise some great funds. For those that might not even be associated with our community, come out for a great event in a beautiful location, it's easy to park and there's so many different events to do for your family and friends.
We have something for everyone from toddlers to grandparents, from casual runners to elite. Funny story, there was a guy I know that I saw on the running trails and he said,"Diane, I'm 85-years-old and I don't think I can win the pizza. The age group is 65 and up." So we added an 80 & up division and the top get pizza for the year! The sponsors allow us to do this, to keep growing and having fun.
While this isn't a standalone Mile event, this year the Spirit Run is memorializing Juan Ramirez in the 15K. Tell us a little bit more about what Juan meant to the running community.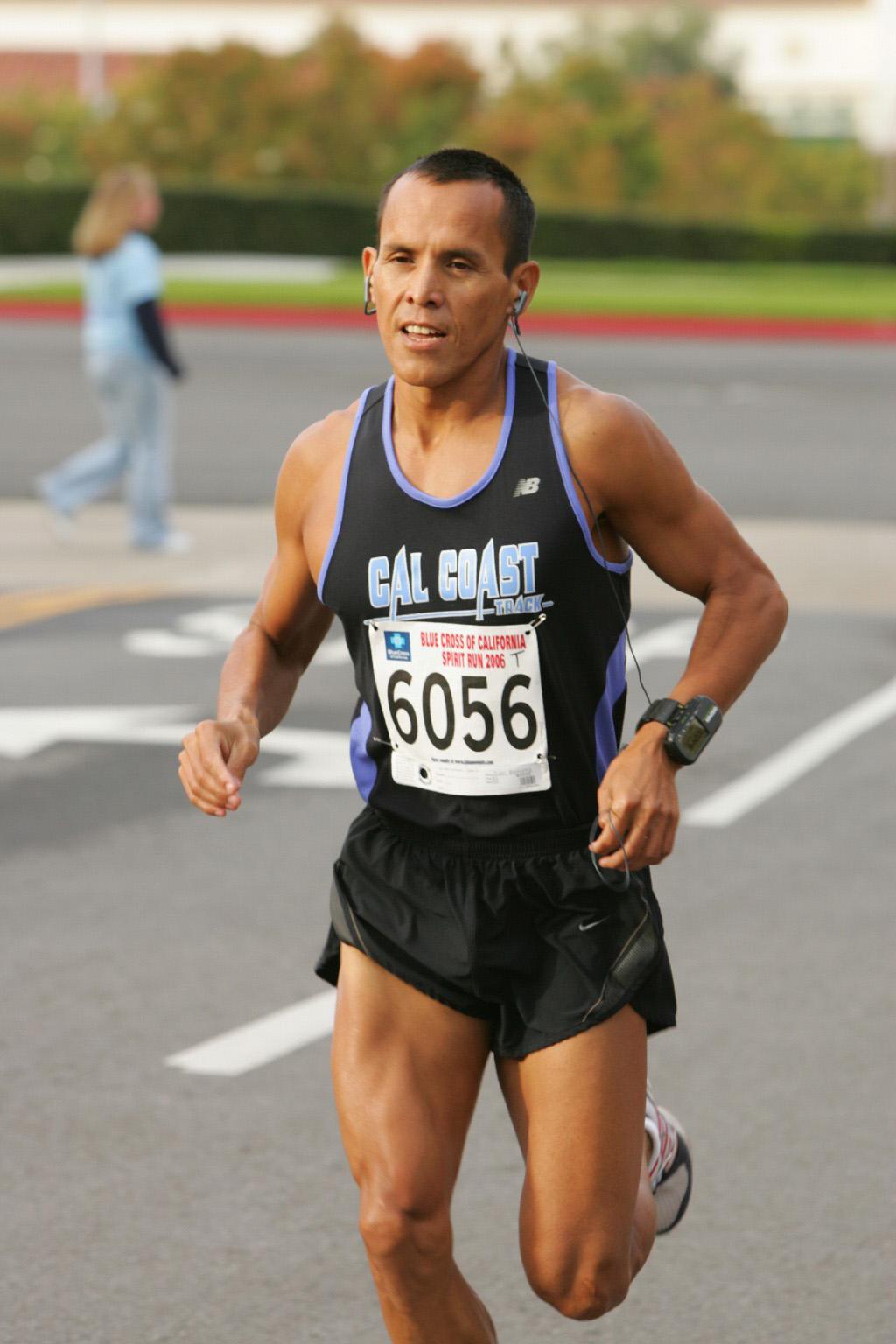 Well, I have to tell you, he was a very, very dear friend of mine. He helped me through two or three years of long tempos, even up to 20 mile tempos, preparing for a marathon. I was very close with him, but he was close with everybody. People throughout Newport Beach, Costa Mesa and beyond. Juan was a regular Spirit Run participant and a mentor to me when I had a running club, then working with high schools; he was part of our family. It was something easy for us to do and had to be done.
He touched a lot of lives and ran our 15K a lot. It allows us to remember him and keep his memory alive. Juan was such a competitor and had incredible integrity. He was always about doing your best; winning was secondary.
Thank you for sharing that. What an incredible community event with truly something for everyone.
I'll probably keep doing this until I can't do it anymore!
Thanks Diane and good luck this weekend!
Thank you.