Marion Mile off to running start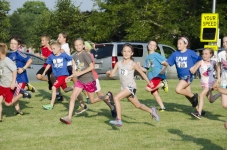 June 27, 2013
Summer Mile race series expects 250 children running the iconic distance every Tuesday thru August 6
By Matthew Bernat, Sippican Week
MARION, Mass. — Competition is heating up at the Marion Mile as several boys, and one girl, ran a Mile in less than six minutes last year.
Now in its twelfth year, the summer races (photo right, Georgia Sparling) returned this Tuesday and kids of all racing abilities are invited to participate.
"Some of the kids are very competitive, and some just run the race with a smile on their face the whole time," said the event's founder and Tabor track coach, Chris Adams. He noted last year was the first time a girl running the Marion Mile broke the six-minute barrier.
This year, Adams said 250 children are expected to participate in the race held at Tabor Academy. For a $15 registration fee, kids are welcome to participate in the Tuesday night races, which start at 6:30pm near Tabor's chapel.
The Mile is open to kids as old as 14 and is run in two parts; 7 to 14-year-olds run the full Mile, while kids 6 and younger run a half-mile race.
Fitness is the focus, Adams said, but to keep it fun ribbons, t-shirts, lanyards and other items are given away to the runners.
"I'm not sure who loves it more, the kids or the parents," Adams said. "Parents come up to me after the race and say, 'I know my child will sleep good tonight.'"
Tabor runners and academy alumni help Adams record race times, register participants and pass out prizes.
"We have a really great crew," Adams said. The race began with just six runners and two of them were Adams' children. Adams created the Marion Mile after his son, who was 8 at the time, said he was in pain after the Marion 5K, a race Adams also organizes.
Adams said the race is meant to promote fitness. In 1973, Adams began running and continues to do so.
"I stopped counting my miles after the first fifty thousand," he said, and laughed. "There is no second fifty thousand miles." Adams said he enjoys teaching kids to appreciate the benefits of running.
The last race for the Marion Mile will be held Aug. 6.
Continue reading at: http://sippican.villagesoup.com