Martinez Unafraid to 'Go After It'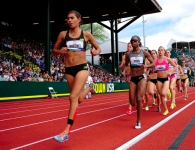 June 19, 2014
"Going after it" means taking risks, accepting the possibility of failure to see how great a success is possible.
By Parker Morse, IAAF.org
The 2013 season, in which she won bronze at 800m at the IAAF World Championships, made Brenda Martinez the most successful U.S. woman at that distance in decades, and introduced her to the world as a two-lap star.
But behind that stellar run, in which Martinez ran at or close to the back until the closing 200m, is a story which would make a Hollywood producer read the script, complete with closed doors, an underdog background, and a coaching guru. Perhaps the best part: there's room for a sequel.
With the first part of her 2014 campaign behind her, including IAAF Diamond League starts in Eugene, Oslo and New York, Martinez has already run 1:59.24 for 800m and 4:02.52 for 1500m, even with a less-than-ideal winter training session.
Continue reading at: www.iaaf.org