Marty Liquori: Mr. Sub-4 at NCAAs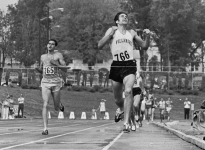 August 02, 2020
Villanova star won three outdoor NCAA Mile crowns, all sub-4, setting two meet records
From USTFCCCA
Marty Liquori of Villanova beat a legend for his first victory at the NCAA Division I Outdoor Track & Field Championships.
He was just a sophomore then and followed with two more NCAA Mile title to become the only athlete with three sub-4 Mile efforts in this meet. No one else had more than one.
Liquori's first NCAA Mile crown came in 1969 at host University of Tennessee against world record holder Jim Ryun, who was running his final race for Kansas. Ryun – who hadn't lost an outdoor Mile in four years – was a huge favorite. But Liquori – recovering from an intestinal virus six days earlier and nursing a foot injury for two weeks – ran with the leaders and took control on the last lap, in hopes of taking the sting out of Ryun's feared kick.
On the homestretch, Ryun was on Liquori's shoulder but with 30 yards left, dropped off. As Cordner Nelson of Track & Field News wrote, "Immediately, Liquori reacted with a pleasure never seen while a race was still on. He grinned. He looked at the sky. He shouted for joy. He waved his fists. His last lap of 54.2 gave him victory in 3:57.7, a new meet record."
After repeating as NCAA champ in 1970, running 3:59.9, Liquori lowered the meet record to 3:57.6 in 1971 to become the fourth man to win three 1500 / Mile titles (and the only one to win three Mile titles). Liquori joined Don Gehrmann of Wisconsin (1948-50), Ron Delaney of Villanova (1956-58) and Dyrol Burleson of Oregon (1960-62) in that regard. No man has done so since.
A month before the 1971 NCAA meet, Liquori ran his collegiate best of 3:54.6 in another memorable race against fellow U.S. Olympian and legend Ryun – now a post-collegian and in the first race known as the Dream Mile, principally because it reunited Liquori and Ryun. And just like their first race, Ryun was on Liquori's shoulder down the homestretch and stayed there as both crossed the finish line, Liquori a couple of inches ahead, after a 54.6 last lap, 3:54.6 to 3:54.8. One word, epic.