Matthew Centrowitz learns the strategy behind speed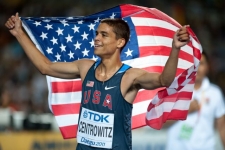 April 13, 2012
By Amy Shipley, The Washington Post
Father and son laugh about it now. The father, in fact, seems to delight in recalling his son's monumental misjudgment and subsequent collapse in his first Mile as a freshman at Broadneck High. The young Matthew Centrowitz boldly took the lead from the start of the indoor race, secure in his talent and genes. He had been a boyhood star. His father was a two-time Olympian in the middle distances. 
The band of juniors and seniors following close behind Matthew posed no concern until they blew past him, quite suddenly, over the final lap. Centrowitz ended up fourth or fifth, stunned and demoralized.
That performance inspired a lecture from his high school coach and a huge nudge in the ribs from his father, Matt Sr., a four-time national champion. His son had clearly inherited his running gifts. But race tactics? A sense of strategy? 
Continue reading at www.washingtonpost.com

Click here to hear 2012 Olympic hopeful Matthew Centrowitz, 22, discuss the complex, developed-in-the-moment strategy behind the 1500 meter race. (Video by The Washington Post)