McNamara Sets Meet & State Record at Nike Festival of Miles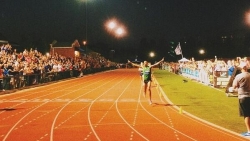 June 05, 2014
Event record crowd of more than 2,000 treated to 4 men sub-4 minutes and 7 boys under 4:10 for the Mile at 7th edition
ST. LOUIS – An event record crowd of more than 2,000 watched the fastest edition yet of the Nike Festival of Miles on Thursday evening. Temperatures in the 70s with little to no wind made for perfect racing conditions at Saint Louis University High School and the athletes did not disappoint.
The night's premier event, the Saint Louis Track Club Men's Mile, featured Jordan McNamara (Nike OTC Elite) who addressed the crowd before the race and asked them for their help as he was going after the meet and State record of 3:55.29 by Leo Manzano in 2009.
"These guys all want to break four and I want to go 3:54," McNamara said. "We're going to need you to be going absolutely crazy the whole entire time to do it."
The crowd obliged and so did McNamara, running a blistering last lap to finish in 3:54.27, ahead of fellow Americans Duncan Phillips (3:56.10) and Tommy Schmitz (3:56.45), both set personal records. Chris Gowell (GBR) also broke four minutes (3:58.90).
Just before the Men's Mile the high school boys had already stunned the crowd with the deepest high school Mile of the year. All told, an impressive seven boys broke 4:10, led by Glendale (MO) senior Spencer Haik who ran a U.S. #2 4:05.98. At the bell (3:06), eight boys were still in contention with Thomas Pollard (IA) and Haik at the front. With 200 meters to go though, it was all Haik as the Columbia-bound Miler laid down a 59.14 last lap to get the huge win.
Other stars on the night included Heather Kampf (ASICS) who won here for the third straight year in the Speed Factory Athletics Women's 800 with a new meet record, 2:01.48 over Lauren Wallace (Oiselle) and Erica Moore (Brooks). In the High School Girls Mile it was defending champion Stephanie Jenks running a U.S. #9 to win in 4:46.67. The mark bested her own meet record from 2013. Michael Wells (MO) won the boys 100 in a sizzling 10.52 while winners in the boys and girls 800 races were Daniel Chan (IA) in 1:53.17 and Hannah Long (MO) in 2:09.03.
Sponsors for the 2014 Festival of Miles include: Big River Running Company, the Saint Louis Track Club, GO! St. Louis, Speed Factory Athletics, First Bank, UMB Bank, Athletics Sports Medicine, Saint Louis Injury and Rehab, EnviroPAK, Dr. Hydrate, Saint Louis University High School, Xerox, TRXC Timing and Drury Hotels.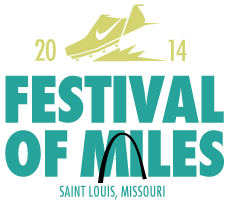 The Festival of Miles Foundation is a non-profit organization whose mission is to promote the sport of track and field and give back to athletes in need. The Festival of Miles is a track meet featuring 2.5 hours of non-stop action with youth and middle school races, high school races showcasing some of the nation's top talent and pro races featuring Olympic level athletes. Each year all proceeds from ticket sales go to an athlete/athletes in need.
The Nike Festival of Miles is also a Bring Back the Mile Featured Event, showcasing the best Miles across the country and throughout the year.
To learn more visit: www.stlfestivalofmiles.com