Meet rising Mile star Matt Hillenbrand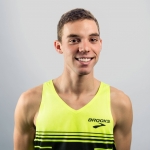 January 29, 2015
"The Mile is my bread and butter. It's the race that I'm most comfortable with right now."
By Chris Chavez, Sporting News
The Brooks Beasts have added another Miler to their middle distance-focused training group. Matt Hillenbrand joins the team after 4 1/2 years at Kentucky. The Louisville native was one of two collegiate athletes in the 1500 meter final at the 2014 USA Outdoor Track & Field Championships.
Hillenbrand spoke with SN's Chris Chavez about joining his new team:
CC: Matt, a professional career with the Brooks Beasts. How did this all come together?
Hillenbrand: It kind of started at Iowa State last year. I introduced myself and shared my personal bests with another teammate that was interested. (Beasts coach) Danny Mackey took a look them and said with some improvement things might work out. I ran pretty well there. It seemed like every time I was around the team, I would have a good race and run well. We always kept the lines open.
After finishing up with cross country at Kentucky in the fall, I started sending emails, calling and finding times to visit. When I came to visit, I really liked the city, team and Brooks. It was a little quick, but it worked out well on both ends.
CC: It's been almost a year since you broke four (minutes) for the first time with that 3:57 at Iowa State. How far have you come from that?
Hillenbrand: There's been a lot of maturing that's come from that race. I've taken a lot of steps in my career. It was the starting point for me getting here, so it's a special performance and one that I thrived off.
CC: What are you most proud of from you career at Kentucky?
Hillenbrand: It is one of those things that's not solely based off performances. I'm thankful for all the help I received, but it's the knowledge I gained over the 4 1/2 years and being able to share it with my teammates. I like to think that I made a big and impressionable mark.
Small things like making a great example out of hard work. I was able to come out of high school with a sub-par standard and leave there at an elite level. There were some coaching changes and being able to work off each year and improve was able to help everyone at the school realize that there's potential that can be made there.
Continue reading at: www.sportingnews.com