Meet the Miler: Mikey Brannigan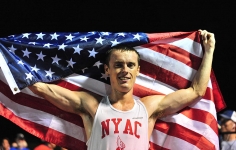 April 23, 2018
2017 USA Paralympic Athlete of the Year and 2016 Paralympic Champion at 800m and 1500m to debut in a USA Championship at the Grand Blue Mile; first sub-4 Miler with autism
By David Monico, Bring Back the Mile
The USATF 1 Mile Road Championship returns to Des Moines for the second consecutive year at the Grand Blue Mile Street Run. Held on Tuesday evening, April 24, the Bring Back the Mile Grand Prix Tour 2018 opener boasts a prize purse of $30,000 and with more than 3,000 participants toeing the line is the third largest competitive Mile in the country. The Tuesday evening Mile once again welcomes one of the strongest fields of the year headlined by 2012 Olympic silver medalist Leo Manzano, Garrett Heath & Riley Masters on the men's side.
This year's field will also include the New York Athletic Club's Mikey Brannigan, a rising, inspiring Mile star who will be making his USA Championship debut. At the 2016 Sir Walter Miler, he clocked a 3:57.58 to smash his previous personal record by more than 5 seconds (see video below). In doing so, Brannigan, who is on the autism spectrum, became the first person with a T20 Paralympic classification, which refers to intellectual disability, to break the coveted 4 minute mark.
The two-time High School All-American also has won 5 medals (3 gold, 2 silver) at the World Para Athletics Championships: 800m & 1500m gold and 5000m silver in 2017 and 1500m gold and 5000m silver in 2015. For 2017, Mikey was named Team USA's Male Paralympic Athlete of the Year.
I sat down with Mikey and his coach, Sonja Robinson, the morning after his 3:47.71 season opener at the Mt. SAC Relays on Friday night to discuss training with Olympians, his goals and what it means to represent Team USA.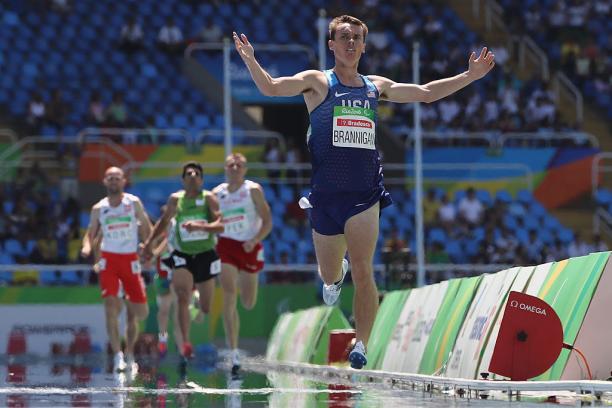 BBTM: You had a quick early season race yesterday, with an evenly paced 3:47, how did you feel about the race?
Mikey: I felt okay, good. I got out a little too quicker than I was planning. There were 18 runners in the heat.
Sonja: They combined the heats so he had to get out, but everybody else had to deal with it too.
Mikey: I got boxed in. I was jostled on the inside rail and try getting good position, make my move. A lot of jostling.
Sonja: Mikey didn't race indoors like some of the other athletes in the field. He's just opening his season and it takes a couple of races to get into racing mojo, so to speak.
Are you pretty happy with a 3:47 to open the 2018 season?
Mikey: Yeah, I'm pretty happy. It's a good start.
Sonja: We know that Mikey tends to take a few races to get into a season; it's a process we know. He knows his training is there and he's done the work and he's ready to run fast, just have to be patient. It's a really big learning year in terms of not just racing, but also learning how to train; to do things like training methodically every time you do a hard workout. It's a good start for him.
Speaking of your training, you've been with the American Distance Project and I heard that you've been called the "Young Lion" by other professionals such as Leonard Korir. When professional athletes such as Leonard call you the young lion, what does that mean to you?
Mikey: It's an honor and humbling because these guys have accomplished so much. I know I have so much to learn and to develop. To have those guys help me as well as those such as Kyle Merber, Robby Andrews and Matthew Centrowitz it makes me work harder because I don't want to waste the opportunity.
Sonja: It's not just the American Distance Project guys, but Coach Frank Gagliano and his group at the New Jersey New York Track Club have been so great with Mikey training when he's at home in New York. It's athletes along the way we see at meets, like last night Erik Sowinski spent time with Mikey after the [Mt. SAC] race. For him to take time to come over to him, greet him and talk to him, it's really special.
Another example was Kyle Merber at Sir Walter Miler who seemed more concerned with Mikey doing well than winning himself. Mikey heeds their word. Them taking time to warm down or warm up with him, it means a lot. He takes something from every interaction and he learns something from it; he really cherishes those moments.
Sir Walter Miler 2016 video below:
You mentioned the opportunity you have and you're going to be racing your first USA championship at the Grand Blue Mile on Tuesday evening. In regards to thinking of that particular opportunity and lining up alongside the top professional runners at a USA championship, what are you looking to accomplish in your first USA Championship?
Mikey: I am excited to be lining up against this great field, but I am going to try to focus on running my own race and stick with the pack and give it all I got.
I also understand that you'll be racing the Mile on Saturday at the Drake Relays and you're looking at potentially a Paralympic world record. Is that one of your main goals this year in 2018?
Mikey: Yes.
Sonja: Mikey is the first ambulatory athlete to go under 4 minutes in the Mile, which he actually did that on the night of the opening ceremonies in Rio. I was getting texts from journalists in Rio, and they were like, "Is this right? Did Mikey just go under?" People were excited that he went under 4 minutes at Sir Walter Miler and that was a really special night and one for the books for sure for anybody that was there.
We're being cautious, but if things line up the way we think they can and it's a little warmer with no wind it will line up for everyone. Mikey tends to rise to the occasion when he's racing. So if other runners are running fast, Mikey's gonna run fast. He's a racer. He loves competing.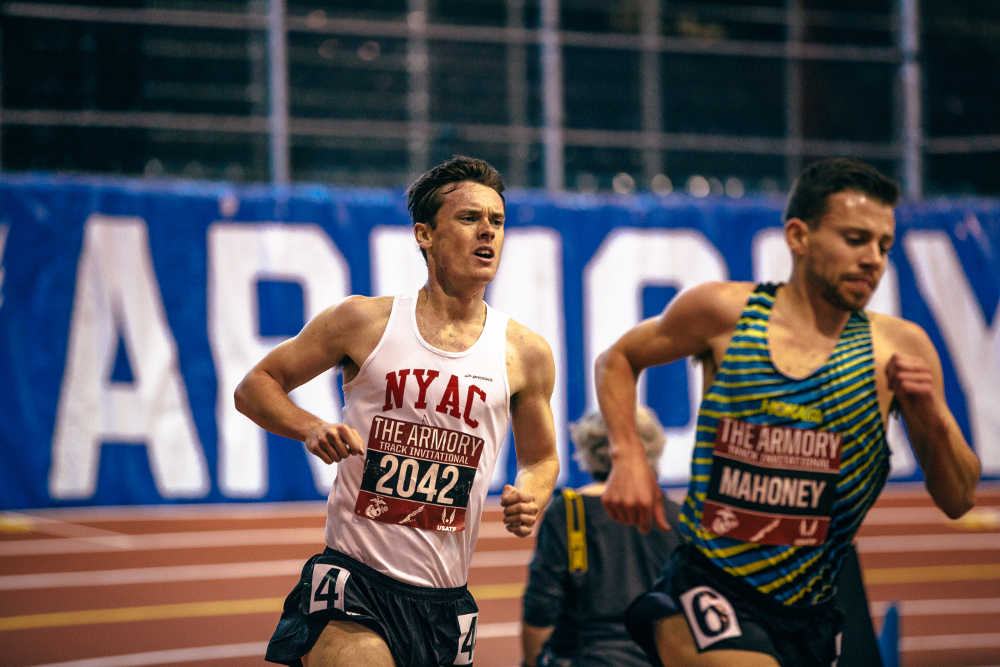 It's challenging for him having autism; pacing is very hard for him. He doesn't feel the difference between the different paces, so it's just a matter of practicing pace. From a coach's perspective what I observe and what others have observed is that he doesn't get it, doesn't get it, doesn't get it and then all of a sudden, he gets it! Then he starts being able to race it.
We're excited though to come to Drake. He's a New York kid and he has always done Penn Relays, but with the support of the New York Athletic Club, Drake made sense this year.
Do you have a favorite race that you've competed in? Whether it's a Mile or another distance?
Mikey: My favorite race is the Sir Walter Miler when I first went under 4 minutes. And then the professional high school Mile at the Prefontaine Classic. I got to experience Hayward Field in Eugene, OR. The Fifth Avenue Mile in 2015 also.
Sonja: 2015 was a really special year. One week before graduation went to the Brooks PR Invite, ran a 2 Mile on a Saturday afternoon (9:00.59). He then had to fly out that night to go to Minnesota for the U.S. Paralympics Track & Field National Championships. The flight was delayed, they lost his hotel room and he didn't get to bed until 2:30 in the morning. He was up at 7:00am, for a 9:30am race and broke the Paralympic 1500m world record with a 3:48.85 on five hours of sleep and travel time.
Fast forward to Toronto in August where he won the 1500m at the Parapan American Games and then got the opportunity to run in the New York City heat of the Fifth Avenue Mile. It was the first time he was in New York wearing his new New York Athletic Club singlet. The New York Athletic Club stepped up and said hey, we really like this athlete and we think he has promise; they were the earliest supporter of Mikey. The first time he had on their singlet he broke the world record by six seconds in the 1500m. All that set him up to run in Doha in his first IPC World Championship where he won the 1500m and took silver in the 5K. Not bad for somebody coming off of a full high school season. He didn't have a break since June 2014!
That's tough for any athlete coming off of a long high school season like that.
Sonja: He really has shown real strength and fortitude. Even last year trying to go after three events at the IPC World Championship. People thought we were pushing it too much but I talked to Mikey about it and he really wanted to go for the three races, the 8, the 15, and the 5K. We looked at the schedule and as a coach, for his development I thought that he needed to attempt it. Even though he came out with the silver in the 5K, I feel like the 5K was his best race because he had to come back from running the 800m semis on Friday night and the 800 final on Saturday. He then he had to come back 14 hours later and run a 5K. He came up a little bit short, but they knew he was coming. Kudos to Cristiano [Pereira] (POR) for going out hard. Mikey had to stay patient and he showed real maturity in sitting back. He chose to go at 600 meters being back 22 seconds and reduced the gap to 10 seconds.
Mikey said to me after the race that he should have gone with 1000, but I told him he may not have finished the race. He really showed his mental fortitude and strength to be able to come back sore and tired. His nervous system had to be zapped from running the two 800s. He just got it done.
For professional athletes, eating well on the road can be a challenge. Do you have any dietary restrictions and what are your favorite foods?
Sonja: Mikey is actually gluten-free, which can be challenging at times, but we are able to work it out on the road.
Mikey: I like sushi, all you-can-eat Brazilian food, Mexican, Chinese and even European food like German food. I'll eat just about anything.
You're still very young at 21 and have three Olympiads ahead of you, including 2028 in Los Angeles. How would you like your accomplishments to inspire other children with autism?
Mikey: I think it's great that the Games are coming back to the United States and in Los Angeles. I hope the U.S. has thousands of kids that are dreaming about being on Team USA in 2028. I hope that everyone, not just people that have autism, see me and set goals, dream big, and work to get there.
What is it like to put on a Team USA uniform on?
Mikey: It's a great opportunity to represent your country. It's an honor and a good opportunity to compete against the world's best.
Who are your favorite Milers, or runners and fellow competitors that you look up to?
Mikey: I have many, but to name a few -- Bernard Lagat, Hicham El Guerrouj, Eamonn Coghlan, Matthew Centrowitz, Paul Chelimo, Edward Cheserek, Eliud Kipchoge, Steve Cram, Clayton Murphy, Kyle Merber, Jenny Simpson, Shalane Flanagan, Galen Rupp and Shannon Rowbury.
You mentioned Clayton Murphy and he won the Grand Blue Mile last year, so you certainly have an opportunity to add your name to the list and join Clayton.
Mikey: That would be fun!
If you could choose another event besides a middle or long distance race, what would you compete in?
Mikey: I would try the decathlon or the long jump or pole vault.
Sonja: Mikey's definitely a daredevil and an adventure. He literally picks up sports like he sees it. He skateboarded when he was little watching Tony Hawk videos and then going out and doing the tricks.
Mikey: I also like playing lacrosse, basketball, soccer, tennis, baseball or just catch with the football.
Sonja: He's an amazing athlete. For the decathlon I get it, he's a little small, but he would've figured it out. He would've been the best at that too. Mikey's just such a great person and you see the passion that he has for running. He loves this sport. He's most comfortable on the track and at a track meet. It's not just runners he's friends with though, he's also good friends with Shot Putter, Darrell Hill and others.
It's been a pleasure speaking to the 474th American to run a sub-4 minute Mile. Thank you for your time Mikey and Sonja. Good luck at the Grand Blue Mile and Drake Relays!
Mikey: Thank you.
Sonja: Thank you.