Memphis area high school distance runners inspired, amazed by pros at inaugural Murphey Mile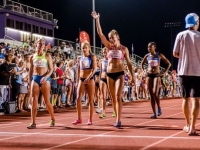 September 05, 2017
"And the crowd... it was like a Friday night football game. We're not really used to that."
By John Varlas, USA TODAY Network
Nick Dwyer was the busiest man at the Christian Brothers High School track last Saturday. But when he got a chance to gather his wits and take a look around, he was very pleased with what he saw.
Dwyer — the Brothers' cross country and track coach — was one of the driving forces behind the HOKA Postal Nationals, an event that gathered high school distance runners from all over the area for some strong early season competition.
The highlight of the evening though was the inaugural Ed Murphey Memphis Mile, in which elite professionals competed to see if anyone could run the first sub-4 minute Mile in Memphis.
Three pros did, with former Ole Miss runner Craig Engels taking first in 3:58.35 to finish just ahead of Eric Avila (3:58.92) and Travis Mahoney (3:59.42). The women ran a 1500 or metric Mile with Kate Van Buskirk — who won a bronze medal for Canada while competing in the 2014 Commonwealth Games — finishing first in 4:07.48 in a race that was paced by Memphian Lauren Paquette.
"Once I got a chance to pull my head out of the sand and watch I was very pleased," said Dwyer. "The elites came in and did what pros are supposed to do. You have people like Sara Vaughn who are just coming off the World Championships and it's the end of their season and they were running on fumes.
"But they were just floored. HOKA (a running shoe company) came in and dressed our stadium up. It was a first-class event. And I think the elites competing before the high school meet balanced the meet very well."
Continue reading at: www.commercialappeal.com
Below, Craig Engels registers the first sub-4 minute Mile on Memphis soil, Saturday, August 26, 2017!