Mexican-American Track Star Hopes Big Heart Provides Olympic Edge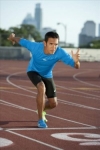 July 21, 2012
By Latin American Herald Tribune
ATLANTA, Ga. – Mexican-born U.S. track athlete Leonel "Leo" Manzano is making his final preparations for the London Games, confident that his Olympic-sized heart will lead him to his best-ever time in the 1500 meters.
Manzano stands just 5 feet 5 inches and is typically the shortest competitor in his event but he also packs a secret weapon: a heart equivalent to a person more than 6 feet tall.
In tests carried out in 2008 at the University of Texas' Human Performance Laboratory, scientists found that Manzano's heart can consume 82.2 milliliters of oxygen per kilogram of body weight per minute, a capacity that few athletes worldwide can match.
Contine reading at: laht.com