Mile High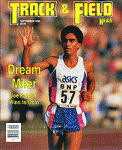 July 23, 1990
Joe Falcon demonstrated in Oslo that the U.S. at last has a middle-distance man who can run with the world's best in the Mile
By Merrell Noden, Sports Illustrated
Not since 1982, when Steve Scott was swapping victories with the likes of Sebastian Coe and Steve Ovett of England, had an American beaten the world's premier runners in a Mile of real consequence. So, as Joe Falcon turned into the final lap of last Saturday evening's Dream Mile in Oslo, Norway, he carried with him a sense of historic opportunity. "I hate hearing 2:56 at the bell," he had said the previous night. "I tend to prepare for a strength race. I'm pretty confident I can go 2:50 and run 3:48."
But now Falcon could hear neither bell nor split time. "People in the crowd were leaning over the wall [between the stands and the track], banging on the billboards" in excitement, he said later. He was running the race of his career. "It seemed," he said, "like an echo chamber out there."
Bislett Stadium echoes with history. This year the Bislett faithful—17,000 strong—were treated to an evening that was both historic and odd. In one 15-minute stretch a strong assault on the world 10,000 meter record devolved into a transmediterranean feud, a world record was set in the javelin, and the finish of the 100 meters was so close that two sprinters were sent on victory laps.
Forty-seven world records have been set at Bislett. Three of these have come in the Mile in the last 11 years. "I grew up watching the Dream Mile on TV," said Falcon, 24, a six-time NCAA champion for Arkansas who was raised in Belton, Mo. "I can remember watching Steve Cram [of England] run his world record."
The 3:46.32 Mile that Cram achieved in Oslo in 1985 still stands as the world mark. In the days leading up to this year's Dream Mile, everyone, Falcon included, figured that if the record was going to be broken, it would fall to Cram's countryman, Peter Elliott of Rotherham. A courageous front-runner, the 27-year-old Elliott had won 22 straight races, stretching back to last summer. This year Elliott had run the fastest 800 (1:42.97), 1500 (3:33.39) and Mile (3:51.80) in the world.
In early June, however, Elliott strained his left calf. For 10 days he could not run at all and had to be satisfied with weight work and swimming. Even after he resumed running, Elliott missed four scheduled races. Bislett would be an experiment. He knew if he faltered in Oslo, other fine Milers would be waiting to gobble him up: Falcon; East Germany's Jens-Peter Herold, the Olympic bronze medalist at 1500; and world 1500 meter champion Abdi Bile of Somalia.
Ten runners took their marks in the fading twilight. Elliott was on the outside and Falcon on the curb. This position was dangerous for Falcon, who at 5'6" was the smallest runner in the field. "I had to get out fast," he said. "I could not let myself get boxed in."
Continue reading at: http://sportsillustrated.com