Miling to the Beat of a Different Drummer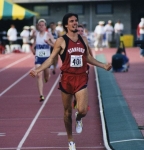 July 10, 2000
"It is difficult for me to understand some of the things Gabe does... What a terrible thing it would be for anyone to temper those dreams."
By John Walters, Sports Illustrated
Even his birth was extraordinary. Gabe Jennings was born inside a teacherage–a house connected to a school–in a community known as Forks of Salmon, in the wilderness of Northern California's Klamath National Forest. Two midwives were present, but Gabe's mother, Suzanne, delivered her firstborn herself. She pushed until his head and arms were through the birth canal. Then one of the midwives who had come from a nearby commune said, "Take your child."
"I reached forward," says Suzanne, "and pulled him out of my womb and then up to my breast. I think about that moment before every one of his races."
Gabriel Harmony Jennings entered the world on Jan. 25, 1979. Had Steve Prefontaine not died in a car crash four years earlier, he would have celebrated his 28th birthday that day.
Ever since Jennings ran a 4:02.81 Mile at the 1997 Prefontaine Classic as a high school senior–then the fastest schoolboy Mile in 23 years–he has exuded a Prefontaine-like mystique. This past spring Jennings, a Stanford sophomore, won both the NCAA indoor Mile and outdoor 1500 meters, and he's a solid bet to qualify for Sydney at the U.S. Olympic Trials beginning next week; his 3:37.33 personal best is the second-fastest 1500 among Americans this year. Although Jennings's accomplishments don't match those of Prefontaine, who won seven NCAA titles and at the time of his death held eight national records, Jennings is as iconoclastic as Pre was.
"Gabe has a lot of the same qualities as Pre," says Vin Lananna, Jennings's coach at Stanford. "He sees no limits. As a freshman the first thing he said to me was 'Coach, I'm a man of extremes. You should know that about me.'"
Jennings's wardrobe is more J. Christ than J. Crew. Whenever possible he eschews shoes, socks and underwear–"I don't believe in laundry," he says–and walks around campus in a long flowing robe that he purchased in Morocco. He'd rather walk around naked. "When I go into the music building to practice the harpsichord," he says, "I like to play in the nude."
He is a revolutionary, espousing communism and calling Che Guevara "my hero." Jennings lives at Chi Theta Chi, a student-operated on-campus co-op where, although he has a room, he sleeps on the roof. Once a week he cooks for his entire house, approximately 40 people, and usually serves ugali, a dish made of heavy white cornmeal that is popular in Kenya. He decided to major in music even though he was not proficient in reading it at
the time.
As a boy Jennings, the son of an unconventional couple who became engaged two weeks after meeting each other (and married three months later), would run or bike the two miles to the schoolhouse where he had been born. Jim & Suzanne Jennings were the school's teachers, along with another part-time teacher. There were usually between 35 and 50 pupils in grades kindergarten through eight, drawn from the 200 or so people who lived within a 100-mile radius. The family cabin had no TV. They generated their own electricity using hydroelectric and solar devices. The Jenningses ate what grew in their garden. "For lunch Gabe and [his younger sister] Trea grazed," says Suzanne. "They'd walk through the garden foraging on beans, corn and tomatoes."
Continue reading at: si.com/vault