NAU's Lomong among Big Sky's greatest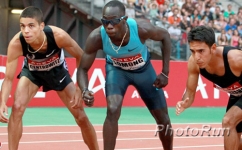 December 22, 2013
Two-time Olympian, 3:51 Miler and Lost Boy of Sudan's story #19 on "50 Greatest Men's Moments" of conference's 50th anniversary celebration
By NAU Sports Information
No Big Sky Conference athlete's story has received as much national attention in recent years than the journey of Lopez Lomong. Lomong's story comes in at #19 on the Big Sky Conference's "50 Greatest Men's Moments" in celebration of the conference's 50th anniversary.
A "Lost Boy of Sudan," Lomong rose from near death in Africa to an NCAA national championship at Northern Arizona, to an American Olympic hero. In 2008, he carried the United States flag at the opening ceremonies in at the Olympic Games in Beijing, China.
Lomong was born in 1985 in Kimotong, Sudan. At the age of six, during a church service, he was taken at gun-point by armed soldiers. As a young prisoner, he endured weeks of harsh captivity and was given only the option to become a child soldier or try to survive the one-room prison where scores of young boys slept, lived and died from dysentery.
"I saw kids dying every day and I would say, 'OK, maybe next time it's going to be me,'" Lomong told CNN in 2012. "That basically changed my life and from that moment, I'm no longer six years old, I became an adult."
Continue reading at: http://azdailysun.com