Nick Willis makes Mile history in Wanganui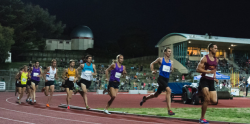 January 20, 2016
Olympic 1500 medalist becomes first to record five sub-4s at Cooks Classic and also leads two countrymen under the magic mark
From New Zealand Herald
Nick Willis last night showed at the mecca of New Zealand Mile racing just why he has an Olympic medal and three Commonwealth medals to his name as well as the national 1500m record.
Willis trounced the field of top New Zealanders and a few Australians at the Cooks Classic Mile in Wanganui on Tuesday evening, running 3:55.56, and demonstrated why he is respected the world over for his middle distance running.
Running well inside the magic 4 minute Mile barrier, the Michigan based Hutt Valley athlete became the first to record five sub-4 minute Miles at Cooks Gardens, first made famous by Peter Snell when he broke the world record fifty-four years ago.
Continue reading at: nzherald.co.nz