Nine for IX: Runner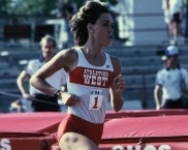 August 12, 2013
The latest ESPN Nine for IX documentary takes a look at one of sports most infamous moments, the Mary Decker - Zola Budd collision at the 1984 Olympic Games at 3000 meters; premiers on ESPN on August 13; directed by former world class runner Shola Lynch, winner of the 1984 Millrose Games Girls' Mile
From ESPN
The expectations were sky-high for American distance runner Mary Decker as she lined up to make her Olympic debut in the 3000 meters at the 1984 Los Angeles Games. Decker had displayed unwavering dominance in every distance (from 800 to 10,000 meters) heading into the event, and her wholesome image graced magazine covers and adorned walls all over the world.
At age 25, it was her first Olympics; stress fractures in her leg kept her out of the 1976 Montreal Olympics, and the U.S. boycott prevented her from competing in the 1980 Moscow Games. The 3000 in L.A. was to be her coronation, the gold medal that would validate her greatness.
But there was another compelling figure in the race, a 19-year-old barefooted South African running for Great Britain, Zola Budd. Just past the midway point of the race, Budd crowded Decker on the inside lane and, in the panic and urgency of the moment, they collided. Decker fell to the track. Budd would regain her stride, but she finished a distant seventh behind the winner, Romania's Maricica Puica.
Decker initially blamed Budd, but in later years they reconciled and tried to get past the collision. Still, Decker's one moment of heartbreak came to define what should have been a glorious career.
"Runner" revisits one of the most infamous moments in sports history, and what life has brought the athletes since.
Director's bio: Shola Lynch
Lynch is an award-winning American filmmaker who burst on the scene in 2004. Her eagerly anticipated second feature documentary, "Free Angela and All Political Prisoners," is a firsthand account of the events that thrust Angela Davis into the national spotlight; Davis went from being a young college professor to being a fugitive on the FBI's Ten Most Wanted list. This complex film has challenged Lynch and showcases her progress as a promising director and producer.
Continue reading at: espn.com