Not breaking 4 minutes in Mile a possible blessing for ASU's Bernie Montoya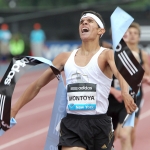 September 09, 2013
"The fire is still growing inside, and I still want to prove myself. I'm more driven than in high school."
By Jeff Metcalfe, Arizona Republic
In the long run, Bernie Montoya might be better off for not breaking the four-minute Mile barrier while in high school.
He's under somewhat less pressure starting his college career at Arizona State because he fell less than two seconds short of joining the elite sub-4 prep club of Jim Ryun (1964), Tim Danielson ('66), Marty Liquori ('67), Alan Webb (2001) and Lukas Verzbicas (2011).
Still Montoya's 4:01.32 at the 2012 adidas Dream Mile is third fastest all-time in a race with only high-schoolers so it's hard to keep a lid on expectations even at ASU, where middle/distance running flies way under the radar compared to Oregon, Colorado or some Eastern schools. It's entirely possible, though, that Montoya eventually will topple the fabled school track records — 3:56.90 Mile and 3:40.70 1500 meter — set by Chuck LaBenz in 1970.
"You want to be grateful for what you have," said Montoya, who never expected to run 4:01 when he was a freshman at Yuma Cibola High. "In the end, I'm very satisfied with my (high school) career. The fire is still growing inside, and I still want to prove myself. I'm more driven than in high school. I have to be if I want to stay up with those big dogs."
Continue reading at: www.azcentral.com