NYRR Wanamaker Mile Features Rematch of Centrowitz vs. Willis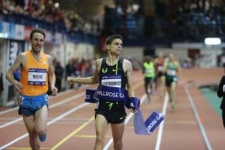 February 04, 2016
Shannon Rowbury also to defend NYRR Wanamaker Mile title against star-studded women's field
From NYRR
The NYRR Wanamaker Mile at the 109th NYRR Millrose Games will feature a riveting rematch between defending champion Matthew Centrowitz, of Portland OR, and 2015 runner-up and the fastest Miler in the field, Nick Willis, of New Zealand, on Saturday, February 20, at the New Balance Track & Field Center at The Armory. Centrowitz and Willis ran the two fastest indoor Miles in the world last year in the NYRR Wanamaker Mile, Centrowitz breaking the tape just a step ahead of Willis. Shannon Rowbury, of Portland, OR, will attempt to defend her title as key American and international rivals chase the now 1500 meter American record holder for the crown.
"NYRR is honored to be a year-round partner of The Armory and third-year title sponsor of the NYRR Millrose Games, and we're always especially proud to support the famed NYRR Wanamaker Mile," said Peter Ciaccia, NYRR president of events and the race director for the TCS New York City Marathon. "We are anticipating an incredible rematch of our defending champion and runner-up with Matthew and Nick, and look forward to watching Shannon once again compete against a talented and diverse women's field."
"The NYRR Wanamaker Mile continues to attract the world's greatest Milers, and each year's lineup tells a special story," said Ray Flynn, NYRR Millrose Games Meet Director. "This year, we'll get to welcome back both of our defending champions and witness a rematch of one of the closest NYRR Wanamaker Mile finishes in race history in the men's race. I would like to thank NYRR for their continued support in assembling accomplished and dynamic NYRR Wanamaker Mile fields."
Centrowitz, 26, is the defending NYRR Wanamaker Mile champion, and also won the race in 2012. In that same year, he won the 5th Avenue Mile and finished fourth in the 1500 meters at the London Olympics. Centrowitz captured the bronze medal at the 2011 IAAF World Outdoor Track & Field Championships 1500 meters, and improved to silver in 2013. He is the third-fastest American of all-time in the 1500 meters (3:30.40), and has won three outdoor USA 1500m titles (2011, 2013 and 2015). Centrowitz bested Willis 3:51.35 to 3:51.46 in last year's NYRR Wanamaker Mile.
"I'm looking forward to coming back to New York to defend my NYRR Millrose Games Wanamaker Mile title on February 20," said Centrowitz. "It will be my fourth time to run this race and I'm hoping to add to my two victories in 2012 and 2015. The list of NYRR Wanamaker Mile winners is legendary and I would love to take a few more titles and try to set an NYRR Wanamaker Mile record."
Willis, 32, is the runner-up of the NYRR Wanamaker Mile, and looking to avenge last year's loss to Centrowitz the same way he did at the 2015 NYRR 5th Avenue Mile where he captured the crown and beat Centrowitz handily. Willis is also the 2008 and 2013 champion of the NYRR 5th Avenue Mile, making him the third male athlete in event history with at least three wins. He set the national record in the 1500 meters (3:29.66) in the summer of 2015 and won a silver medal at the 2008 Olympic Games in that event. In 2006, he became the first New Zealand athlete to win the Commonwealth Games 1500 meters.
"I'm both excited and desperate to come back to the NYRR Millrose Games to finally win the NYRR Wanamaker Mile," said Willis. "In my four attempts I have finished second or third place, with none being closer than last year's lean at the line with deserved winner Matthew Centrowitz. Centro is back again this year, so I look forward to resuming our rivalry."
Centrowitz and Willis will lead a field of top milers, including Olympic silver medalist Leo Manzano of Austin, Texas, 2015 USA Road Mile champion Garrett Heath of Seattle, WA, 2015 Pan Am Games 1500-meter bronze medalist Charles Philibert-Thiboutot of Canada, two-time European Championships 1500m bronze medalist Chris O'Hare of Great Britain, and 2015 USA Championships 1500m runner-up Robby Andrews who lives in Manalapan, NJ. Adding both international and NCAA flavor is Villanova's Jordy Williamsz of Australia, who, if he runs 3:53.50 will gain provisional selection for Australian Olympic Team.
Defending champion Rowbury, 31, is back to defend her title; now, as the American record holder for 1500 meters. Rowbury ran away with the victory in 2015, winning by three seconds in 4:24.31, the #4 indoor time in the world last year. She broke the 32-year-old U.S. 1500m record in the summer of 2015 with a 3:56.29 performance in Monaco. In September 2015, Rowbury was the runner-up at the NYRR 5th Avenue Mile, and has won the event in 2010 and 2009. She earned a bronze medal at the 2009 IAAF World Track & Field Championships in the 1500 meters, and is a two-time Olympian. Rowbury has won six national titles: 1500m Outdoors (2008, 2009), Road Mile (2009), Indoor Mile (2015), and Indoor 3000m/2-Mile (2008, 2015).
"It's an honor to have a chance to defend my title at the legendary NYRR Millrose Games," said Rowbury. "I love competing in NYC at The Armory because the energy is infectious and the NYRR knows how to put on an exemplary event."
Rowbury's key rivals include four-time national 1500-meter champion Treniere Moser of Portland, OR, 2015 USA 5000m champion Nicole Tulley who lives in Piscataway, NJ, three-time international medalist Ciara Mageean of Ireland, three-time USA Road Mile champion Heather Kampf of Minneapolis, MN, and USA Junior 1500m record holder Alexa Efraimson of Camas, WA. Adding an NCAA component to the field is Dominque Scott of the University of Arkansas, last year's NCAA indoor 3000M champion.
TO PURCHASE TICKETS for the 109th NYRR Millrose Games, go to: https://tickets.nyrrmillrosegames.org/Tickets
About the NYRR Millrose Games
With a storied history that spans more than a century, the NYRR Millrose Games is one of track & field's most prestigious and enduring annual events. A New York City sports staple, the meet moved to the New Balance Track & Field Center at The Armory in Washington Heights in 2012 after having called Madison Square Garden home from 1914 to 2011. The Games—established by employees of Wanamaker's Department Store—feature track and field's most prolific male and female stars as well as collegiate, high school, club and youth competitors. More than 200 athletes share the distinction of being both Millrose and Olympic champions. In November of 2013, New York Road Runners became the title sponsor of the NYRR Millrose Games, which is hosted by the Armory Foundation.