Olympian Steve Spence Runs Sub-5:00 Mile for 40th Consecutive Year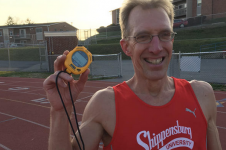 December 16, 2015
World marathon bronze medalist keeps amazing and incredible streak alive with a 4:55.
By Scott Douglas, Runner's World
You might not think that a guy with a 2:12:17 marathon PR running a 4:55 Mile is a big deal. After all, running 2:12:17 means averaging just under 5:03 per Mile for 26.2 miles.
But that 4:55 Mile looks a lot more impressive when you realize the person running it set his marathon personal best in 1990, is 53-years-old, and has now run a sub-5 Mile every year since 1976.
That is the singular claim of Steve Spence. Last Friday, he ran a Mile time trial on the outdoor track of Shippensburg University in Pennsylvania, where he is the head cross country and assistant track coach. Paced by three of his athletes, Spence cruised through the first three laps right at 5:00 Mile pace, then closed quickly to finish in 4:55.4. For the 40th consecutive year, he had run at least one sub-5 Mile. Spence's appears to be the longest such streak.
Continue reading at: www.runnersworld.com