Olympic champion Centrowitz eyes American record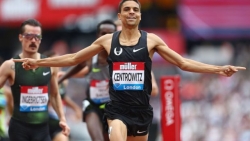 October 25, 2018
The day I don't think I can PR anymore in the 1500m, and the day I stop medaling and feel like I'm in medal contention is the day I'll probably move up.
By Nick Zaccardi, NBCsports.com
Rio Olympic 1500m champion Matthew Centrowitz sat down for a Q&A last month at the end of a season in which he reclaimed the U.S. metric Mile title (his fifth career) and grabbed his first Diamond League win. Centrowitz, after a 2017 plagued by health setbacks, is looking forward to chasing the American record in the 1500m, a repeat Olympic title in Tokyo and, possibly, moving up in distance.
OlympicTalk: Your overall thoughts on the year. A lot was made last year of the health setbacks. You came back, won the U.S. title, got your first Diamond League win. How do you feel?
Centrowitz: It's definitely been an up-and-down year, to say the least. Kind of a slow start, just from me having the big setback I had in November / December [coming back too early from an early August hamstring strain] then not running an indoor season [after returning to training in January]. I can only remember one time where I hadn't run an indoor season in the past decade. The second half went really well starting with the USA Championships. That was the first goal I had for the year, going back and reclaiming the title. Once I did that, the pressure was kind of off and I really wanted to mix it up with some of these guys in these Diamond League races. I knew I probably wasn't in shape to run an American record, or even a PR, but I was pleasantly surprised to run 3:31 [in Monaco], which is my third-fastest time.
OlympicTalk: What's your best race since Rio?
Centrowitz: I would probably say Oxy 2017 (video here). I was pretty excited about that race, ran 3:33 domestically. I haven't really run that fast in the U.S. And obviously getting a chance to compete against Mo [Farah], one of my teammates, and a great caliber of field. I was excited to come out with the win.
OlympicTalk: How big is the American 1500m record for you? [Bernard Lagat's 3:29.30, 1.1 seconds faster than Centrowitz's PR from 2015] Is it bigger than repeating as Olympic champion?
Centrowitz: It's probably #2 behind repeating Olympic gold, but since the Olympics aren't for two years, it's, right now, in my rear-view mirror. Especially after this year, running 3:31 with the year I've had, I think I can probably knock a half-second off the American record. Somewhere between 3:28-3:29 flat.
Luckily, the men's 1500m is so deep these days that there's at least one or two races a year that go around that fast. If I just get back into shape that I know I'm capable of being in, stay healthy, mix it up with those guys, who knows how fast I'm capable of going.
Continue reading at: olympics.nbcsports.com