Olympic hero Leo Manzano in search of sponsorship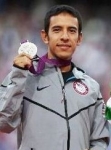 June 21, 2013
2012 silver medalist running "unattached" at USA Outdoor Track & Field Championships in Des Moines
By Tim Layden, Sports Illustrated
DES MOINES -- There are 19 billboard-sized Nike swooshes affixed to the concrete walls and iron railings encircling the outer boundary of the running track at the USA Outdoor Track & Field Championships this weekend at Drake Stadium. There are four more swooshes placed on the infield, including one that is strategically placed at the finish line to appear in any photograph or video captured at the conclusion of a race. There is also a swoosh behind the starting blocks for the 100 meters, another prime spot for image exposure.
In the merchandise tent behind the grandstand, there are endless racks of Team USA official merchandise, all of it emblazoned with that same swoosh. Many of the athletes in this four-day meet that will choose the U.S. team at the August world championships in Moscow are wearing Nike shoes or apparel (whether they are successful enough to be sponsored by Nike, attended a college with a Nike association or simply bought their own gear and preferred Nike). Many of the friends, family members and track fans baking under the Midwest sun and watching the meet are wearing Nike gear of some sort.
There are other sponsorship totems present within the stadium walls, but no corporate symbol is more ubiquitous here than the swoosh, and it is not close. Nike pays for this presence. There is, however, one place you will not see a swoosh this weekend: On the uniform of 2012 Olympic 1500 meter silver medalist Leo Manzano (above, PhotoRun). You won't find any other shoe or apparel company logo at all on Manzano, because, 10 months after winning a truly historic medal while running under Nike sponsorship, he has no sponsors at all. He is, in the parlance of the sport, running "unattached.'' (A dreaded title that sounds almost medical but is, in fact, strictly financial).
And in this juxtaposition, a decorated runner absent sponsorship and a stadium decorated in swooshes, comes a hard lesson in the economics of professional track and field and, by extension, of Olympic sport. For every Allyson Felix, for every Tyson Gay (and my goodness, for every Usain Bolt), there are dozens and dozens of accomplished athletes whose earnings fall far south of lucrative, trending toward poverty.
(Leave it to extroverted hurdler Lolo Jones, who is competing here this weekend in her hometown, to uniquely shine a light on this circumstance with her Vine post Tuesday, showing her season-long earnings of $741.84 as a member of the U.S. national bobsled team. The posting triggered a variety of responses, not least from other obscure sport Olympians who had made far less than that for their endeavors. Jones the hurdler is not obscure and is highly compensated by shoe-and-apparel sponsor ASICS and energy drink Red Bull. Manzano is also not obscure, but is currently scarcely compensated at all).
Continue reading at: http://sportsillustrated.cnn.com