Oregon's Trevor Dunbar: running a family affair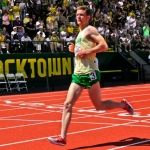 February 02, 2014
First sub-4 minute Mile by Alaska native; father Marcus: "I always told him, 'If I could do one thing I never did, it was break that 4 minute Mile'."
By Chris Mosch, Daily Emerald
For Oregon senior Trevor Dunbar, running has always been a family affair.
Dunbar's mother Kathleen was a multiple-time All-American distance runner at the University of Portland, where she met his father Marcus. After transferring to the University of Oregon and graduating in 1988, Marcus became a U.S. indoor Mile champion and ran a personal best of 4:00.58 in the Mile in 1993.
Trevor and his older brother Miles ran at kids camps and meets in Kodiak, Alaska, throughout elementary school and junior high before ramping up their training with the Kodiak High School cross country and track and field teams.
Their high school coach was none other than their father, who was able to share his knowledge and passion for the sport with his boys and train with them, too.
"It was motivating," Miles said. "It was fun to get out there, enjoy nature and just enjoy the process of running."
Continue reading at: http://dailyemerald.com